Needles On The Record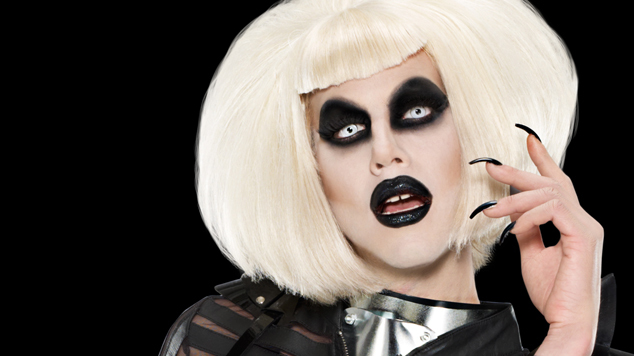 Sharon Needles the breakout star of reality TV show RuPaul's Drag Race has just released her debut album PG13 and is heading to Australia in March including an appearance at Connections Nightclub.
OUTinPerth spoke to Needles from her home in Pittsburgh as she took a break from her whirlwind tour as the reigning queen of drag. Needles told us that she's excited about heading down under for the first time expressing her love of Australian horror films, drag queens and declaring that Priscilla Queen of the Desert should be regarded as a Bible by all drag artists. When told that amateur drag performers in Perth have been seen doing Sharon Needles inspired performances Needles breaks out in the wickedest laugh.
It was interesting when Drag Race was on last year; because all of a sudden at our local amateur drag night was filled with Sharon Needles inspired performances. Do you find it surprising that wannabe drag queens on the other side of the world are drawing inspiration from you?
RuPaul's Drag Race consists of two types of queens. Those who are seasoned well known already drag queens on the national circuit, and then there's not so well known queens who usually comes from smaller cities. It's usually those queens who don't make it far in the competition, especially they don't win. So I was shocked when I was considered for the show. I was shocked when I was on the show and even more shocked to win the competition, but hey – I think if people bring a little bit of more theatre, and camp and most definitely darkness to drag and then I think I did a good service. The only problem is when I'm on tour and I run out of white contact lenses and I go to buy a pair is that they tell me that they've been on the shelf for years, just sitting there, and they're always out. I should have bought stock in theatrical lenses!
One of the interesting things about the show is not only the performances, but we also see people behind the scenes, that's quite revealing for a performer isn't it?
It is, it's bad for the celebrity that likes to take off their costume and hide in plain sight, but I think it's good for the American people to see that behind the three pounds of makeup and the stacked wigs and the glitzy gowns that there is a competent adult man underneath, someone who has created this fantasy character that's designed to entertain, and shock and make people in the GLBT community think. I think people forget that there is a male actor, almost a puppeteer pulling all the strings to this outlandish character.
Here in the States some people thought drag queens were bad for gay rights because we were just kind of clowns that poked fun at society but ever since RuPaul's Drag Race started we've almost become ambassadors.
How was recording your album?
It was a blast! The moment I won RuPaul's Drag Race I knew I didn't want to waste a single second. Being a child obsessed with fame, I wanted it all.   I wanted to be a theatre actor, I wanted to be a TV personality, I wanted to be a pop star, I wanted to be a supermodel, I wanted to be a cover girl. I've crossed everyone of those f**king things off my list.
It was so exciting to know that I wasn't just going to be doing a single or a club dance track but that I was really going to put my heart and soul , or lack thereof, in to twelve very dynamic tracks that don't necessarily just preach about being a drag queen. I think its going to be one of the most diverse albums both lyrically and production wise ever done by a queen.
What does the album sound like?
I call it alt-pop because on one point it is an electronic album but there are elements of punk, there's elements of classical with pianos and violins, there's some dark dance tracks on it. It's not just me on it, I really wanted this album to hold up, have street cred but also involve some of my idols that being on the show had allowed me to meet. I do a track with RuPaul, I do a track with Ana Matronic from the Scissor Sisters, I do a track with Jayne Country, I do a track with Amanda Lapore and I do a track with my boyfriend, who is on the next season of Drag Race, Alaska Thunderf**k.
Did you give him any advice about appearing on the show?
Yeah, I told him not to cry too much. You got to give them enough tears to give them that variation, but my only advice is, don't cry too much, because they'll use it against you.
You've said that LGBT people should appreciate their history; including people like Jayne County on your album must help a lot of younger people learn about these older artists.
It's so true, it used to be the kids may not know who somebody is – but the drag queens always knew. That's really changing, unfortunately I think because of Drag Race, now drag queens are inspired by us on the show and they have Google at the tip of their fingers but they just stick to their Nicki Minaj and their Lady Gaga. I mean we had a contestant on the show called Phi Phi O'Hara who didn't even know who Divine was and had never seen Paris Is Burning. She didn't know who Jayne County was. That's fine and all…but I think to be a well rounded queen you almost need to be a historian of fabulousness and ground breaking individuals. Jayne Country and I do a punk metal song called Hail Satan and I'm really proud of it.
How was it shooting the video for your first single?
We shot the video for This Club is a Haunted House, and call me persistent or just call me vain and selfish but I always feel like I have to do things 10,000 times bigger or better than the previous queen before me. So this was not done on a hand held camera in an afternoon. This was a pretty extensive and a pretty big deal shoot.
We used about thirty extras and filmed in the Sleep No More space which is a pretty legendary and iconic place in New York where it's like live theatre in a haunted house. They were nice enough to donate this beautiful haunted house to our shoot.
I think my favourite part of the video is where we have a blood orgy where thirty kids are pretty much f**king under a downpour of what I hope was fake blood.
As we wrap up our interview Needles asks if we have many snakes and spiders in Perth, we assure her that both are bountiful in WA. 'OK,' she says, 'I'm bringing extra extra big heels!'
Sharon Needles album PG13 is out now. She'll be appearing at Connections Nightclub on Saturday March 2 and tickets are selling fast.