New Perth filmed drama 'The Heights' begins on ABC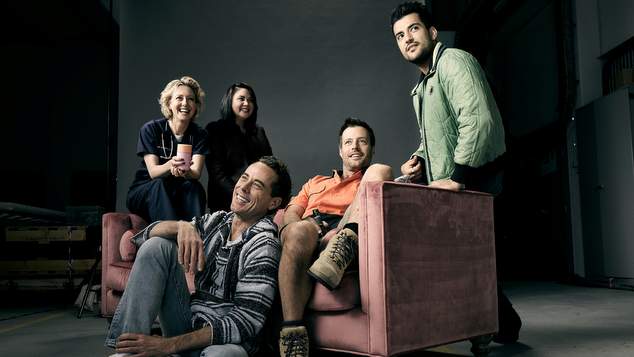 A new 30 episode television drama series shot and post produced in Perth will commence tonight on the ABC.
Led by established actors Marcus Graham, Roz Hammond and Shari Sebbens, The Heights also introduces several first-time actors and only four of the cast had no connection to WA.
The show is described as a ground-breaking serial drama about a community trying to protect its way of life, while under the constant threat of gentrification and the social stratification of its neighbourhood.
The 'slice of life' drama explores the relationships, work lives and everyday challenges faced by six families living in the Arcadia social housing tower and the gentrifying inner-city district that surrounds it – Arcadia Heights.
The series presents a medley of characters, cultures, classes and backgrounds from the 'tower' community, exploring their relationships, work lives and everyday challenges faced by its characters in an entertaining relationship drama series.
The impressive ensemble cast includes Alongside Marcus Graham, Shari Sebbens and Roz Hammond the show also features Fiona Press, Dan Paris, Calen Tassone, Saskia Hampele, Phoenix Raei, Yazeed Daher and exciting newcomers Bridie McKim, Mitchell Bourke, Koa Nuen, Cara McCarthy and Carina Hoang.
In the show Koa Nuen plays a young gay university student who lives with him Mum – who runs the corner shop. .
The City of Perth has highlighted the positive effect filming the drama in WA had on the local economy. Acting Chair Commissioner Gaye McMath said it's exciting that Perth was chosen as the place to shoot a project of this nature.
"Supported by the City of Perth the production has resulted in local jobs, hotel bookings and training for 40 interns across the length of the production, which will help to future-proof the film & television industry here in WA," McMath said.
"With 84 speaking roles, 115 local crew and 400 extras – cast and crew spent around $1 million on hotel accommodation, site rentals, location and catering costs across the City of Perth during the 20 week production period.
"The City has long supported the arts, and working with diverse industries is just another way the City can help support local businesses."
Producer Peta Astbury-Bulsara said it's fantastic to have such a quality production coming out of Perth and WA.
"It's a great advertisement to what can be done in this state and we wouldn't have been able to do it without the great support of the local community and our partners, including the City of Perth," Astbury-Bulsara said.
"Everyone has been very supportive of The Heights throughout the entire process and we can't wait to share it."
The Heights will screen as double episodes on Fridays at 8.30pm on ABC from tonight. The whole series will also be available on iview following the premiere.
Source: Media Release
---