New play from The Actors Hub dances with the bullying devil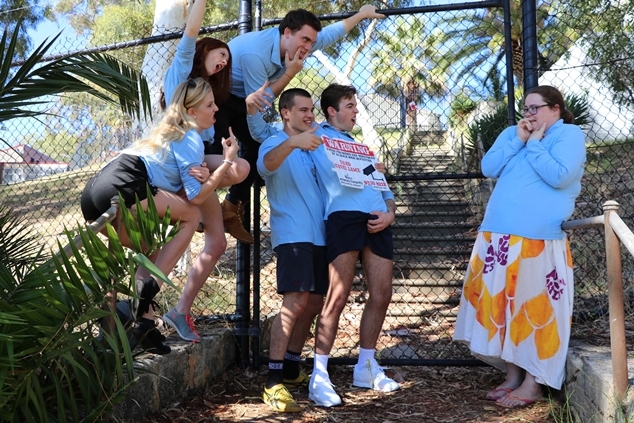 You can't shake the devil's hand and say you're kidding – so say Gap II students from The Actors' Hub in their latest self-devised production at the Casey Drama Centre.
Directed by Hermione Gehle, Dancing With The Devil is a gritty, explosive and honest story that explores the gut-wrenching reality young adults face every day.
Exploring the harsh realities of high school life, the play looks at what little needs to happen before a situation escalates out of control.
The Actors' Hub founder Amanda Crewes was heavily involved in the self-devised process and said Dancing With The Devil was a story that needed to be told courageously.
"At any time, anyone could make a difference and yet they don't," she said. "What immobilises us in these events and makes us move with the status quo?
"How many young lives do we have to lose before we start addressing this issue at its core?
"We need to uncover the truth about how each role – the bully, victim and bystander – plays a part and look at who the real victim may be."
Crewes said the group-devised performance contained themes that resonated strongly with the young creative team.
"Most of them only left school a few years ago so telling it how it is, and not hiding from the harsh realities of what they were exposed to, was of the utmost importance to them," she said.
"Exploring different theatrical devices to capture this complex and multifaceted experience as accurately as possible has been both exciting and confronting for all involved.
"Those of us involved in the work, who are parents ourselves, found it hard to believe the students' stories about bullying were almost identical.
"No matter the school or socio-economic background, the stories were the same and just as frightening.
"This made us realise it was a story that needed a voice and a voice brave enough to tell it how it really is.
"Too many of our students have been affected by stories of those who have taken their lives, as a way of escaping this brutal situation – action needs to be taken and conversations need to start."
Given the young age of the cast, Crewes said there was a danger their stories could be watered down, simply because there was a fear of offending someone.
"We go to the theatre to learn about ourselves," she said. "If we are going to present theatre for young adults, then we need to tell it honestly and, therefore, respectfully.
"If we worry about upsetting someone, we diminish the true size of what they're going through and, at the same time, underestimate the potential power of the theatre experience.
"The show is meant to confront with the intention of getting audiences to talk afterwards, so solutions may be found."
Dancing With The Devil will be at The Casey Drama Centre (Perth Modern School) from Thursday April 27 – Saturday April 30.
Tickets available from trybooking.com or for more information head to the Facebook event page.
Source:- Press Release