What does Nineteen Eighty Four offer in 2017?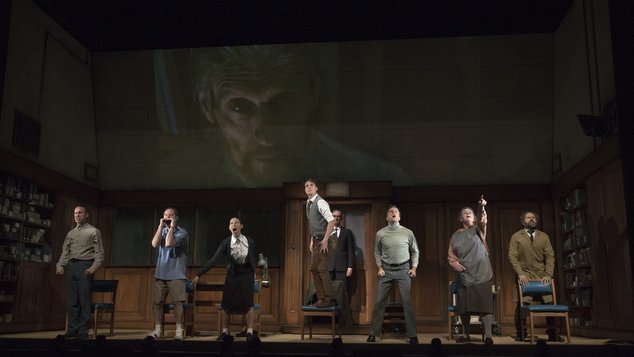 The acclaimed theatrical production of George Orwell's Nineteen Eighty Four opens at His Majesty's Theatre this week.
The stage version of Orwell's dystopian novel has garnered critical acclaim on Broadway and in the West End, and it's been selling out as it tours around Australia.
Robert Icke and Duncan Macmillan's adaptation first premiered at the Nottingham Playhouse in 2013, a co-production between Headlong and Almeida Theatre. Reviews of the show have praised its visceral impact and hi-tech presentation.
The book was required reading in Australian schools for many decades. The story of Winston Smith who lives in a society where citizens are under constant surveillance from the government, and face arrest for having 'thought crimes', gave a chilling forecast of what the future might hold when it was first published in 1949.
When the actual year 1984 rolled around the story was brought to the big screen with a film starring Richard Burton, Sir John Hurt, Suzanna Hamilton and Cyril Cusack. The Eurythmics provided the soundtrack.
At the time, society checked to see how many of Orwell's predictions had come true. The novel introduced many concepts and words that have become part of the English language.
Most famous is the phrase "Big Brother is watching you" which aside from inspiring a captivating reality TV show, has also been the catchphrase at the centre of any discussion about government surveillance. But the concepts of double-think, newspeak, thought-crime and Room 101 have also entered the English lexicon.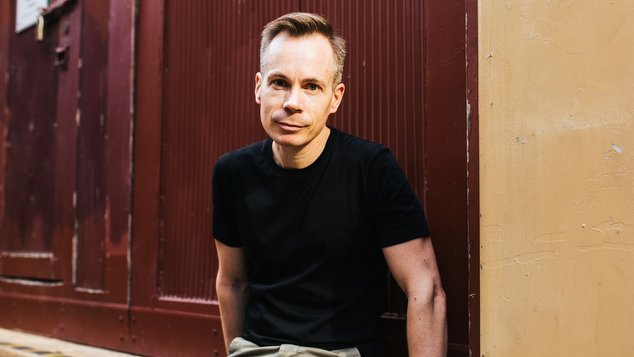 The show's Associate Director Corey McMahon chatted to OUTinPerth about the production ahead of it's Perth opening.
Was Nineteen Eighty Four a book you were forced to read in high school?
You know, I wasn't. In fact I'd had it sitting on my bookshelf for a long time and I hadn't read it. I only realised that when I got offered the gig, which was at the beginning of last year.     
We started to have conversations about me being the Associate Director on the Australian tour and it just occurred to me it was one of those books that I had, but just never got around to reading.
I'm the anecdotal evidence that it's one of those books that people think they've read but they actually haven't, but I think that's because so much of the book has infiltrated our popular culture.
I know I had to read it high school, but now listening to you talk about how people think they've read it when they haven't I'm beginning to wonder if I actually read it all the way through. I think I might have only ready three quarters of it if I'm brutally honest. 
I'm a fairly accomplished reader, but it's still an 'ask' to read it, and certainly by the time you get to the end of the book where Winston Smith is being made perfect by O'Brien in Room 101, I found it quite hard to read.
I kept having to put it down because of the relentless nature of the material, and the amount of time it was taking to recondition Winston Smith. So I'm not surprised if you didn't get through it when you were a student.
What do you think George Orwell would make of 2017?
Gosh, I wouldn't know where to begin. I guess he'd look at the world and think he wasn't too far off the mark in some respects.
But I also think he might be relieved to see that we're not all just laying down and taking it. There is still room for challenging certain views and ways about how people in power and authority go about their business.
He might take some comfort in knowing that there are rebels out there and we're all doing our bit trying to keep the world in some sense of normality.
Winston Smith was obviously had designs on being the person who brings down the party, and Big Brother. He doesn't succeed obviously, but at the end of the book, in the appendix of the book, if you read that, it's often neglected, but if you read that, it tells us that actually the party fell, and newspeak, the language created by the party, was dismantled.
If we take what the appendix says as true, then there is light at the end of the tunnel. I think George Orwell would see a lot of Winstons out there and he'd remain optimistic – I hope!
You described part of the book as being "relentless", some of the reviews from overseas productions have described this as a very challenging piece of theatre to view, does that make it a hard work to sell to an audience, if it's something that's going to make you feel uncomfortable?
I haven't seen the Broadway production. I do know the creators of the show Robert Icke and Duncan Macmillan took that as an opportunity to revisit it with fresh eyes. So the Broadway production is slightly different to the West End production, which is what we're staging.
I don't know how much more they turned up the dial, I'm not sure there was much space left in terms of turning up the dial. We've not had the kind of response that's purported to have taken place in America. Absolutely audiences have been shocked at what they're seeing on stage, but not like the reports that have come from the American production.
The torture sequences are quite a significant part of the book, it's fairly long and it is quite relentless. I think Rob and Duncan made the right decision in not shying away from it, I think they had to go the full 100% on it. That is what you see on stage.
I hasten to add though, even though I just said you see it on stage, you actually don't see anything at all. We leave it to your imagination to fill in the gaps, and there's nothing as powerful as your own imagination. We don't show you, we take the lights out and you imagine yourself, and I think that is possibly worse.
What attracted to you to working on this production, what makes it unique in comparison to other shows you've been involved in?
Generally speaking, I  am attracted to work that is of a political nature. Work that goes head-on with what is happening in the world.
What I love about this is its just such an audacious adaptation. They could have done a literal adaptation of it, which would have been about four hours long, but I don't think it would have been as remotely interesting as this is.
What they've done has distilled down all the core elements of the book, and the feeling of the book, and the way that the book is always pulling the rug out from beneath you. You don't quite know what is real and what isn't.
They've captured that on stage, and they've done it 101 minutes. So it's a case of getting in your seat and strapping yourself in, because the play is relentless in the journey it takes you on.
We see the whole thing from Winston's perspective so you are in effect also experiencing it in the way that Winston experiences it. It's just a thrilling theatrical experience.
It's a visceral theatrical experience, it's loud and it really shakes you in your seat. It's like we reach out and give you a shake you in your seat.
I quite like the film with Richard Burton and John Hurt, they do a great job capturing what's in the book. The film, and all film, is very literal. In theatre we can do some things that you can't do in film.
I think that's true, sometimes the abstract nature of theatre is more successful in communicating abstract ideas. 
There is a kind of double-think  going on when you go into a theatre. In the book one of the ways the party control the people is through the concept of double-think, this belief that you can believe two contradictory things simultaneously, and accept both of them.
In the book, there's an announcement that the party is going to increase the chocolate ration to twenty grams.   Everyone cheers and says 'Aren't we so lucky, we're going to get more chocolate' and Winston is the only one who sees that they made exactly the same announcement yesterday, and it increased it to the same amount. Why can't people see that, maybe they can, but they're pretending they can't. It's double-think.
When you go into the theatre, you absolutely know what you're seeing on stage is not real. There's a bunch of people telling you what is most likely a fictional story. What happens to Winston for example isn't really happening to the person who is playing Winston. But we still invest in that, and we still trick ourselves into believing that it's real, and we're still quite affected by that story.
Only theatre can do that.
It is a book filled with a lot of relevant concepts, we still talk about things like 'Big Brother', and 'newspeak' and the idea of people bring 'unpersoned'. These are still really relevant concepts.
I wrote an article earlier this year for the State Theatre Company and said if you think that its a fantasy that a government could control what you think and read and change accepted fact and history, then all you need to do is go to North Korea, because it happens on a daily basis, and possibly to a lesser extent, or not, in China. It's not that much of a stretch.
But when you really start to unpack it, you've got austerity, you've got perpetual war, you've got totalitarian dictators, you've got surveillance, you've got newspeak and alternative facts. Although he doesn't call it alternative facts, that's a very contemporary phrase.
It's Kellyanne Conway speak.
All of that was written in 1949, and all of that applies to now. I think that's why the book went back to the top of the New York Times and Amazon.com bestseller lists after Trump got in, because people were looking for something to reach out to help them understand what was happening around them.
Its interesting from the point of view of working in the media in 2017. We spend so much of our time following people's Twitter accounts, watching SKY News, we have Google alerts set up for certain people and key phrases, there are moments when you can stop and consider whether or not we ourselves are Big Brother.
Without doubt, we're all doing self surveillance. When we go out and take photos of our coffee and upload them to Instagram. The way in which Facebook leaves cookies in your computer to see what else you look at online and then tailors ads to match what your interested in, that's a kind of corporate Big Brother. When you start to look it's quite scary.
Nineteen Eightyfour opens at His Majesty's Theatre on Friday 4 August and runs until 13 August. Tickets are available from Ticketek.      
Graeme Watson
---
Support OUTinPerth
Thanks for reading OUTinPerth. We can only create LGBTIQA+ focused media with your help.
If you can help support our work, please consider assisting us through a one-off contribution to our GoFundMe campaign, or a regular contribution through our Patreon appeal.