OUTinPerth LGBTIQ Election Forum: What did we learn?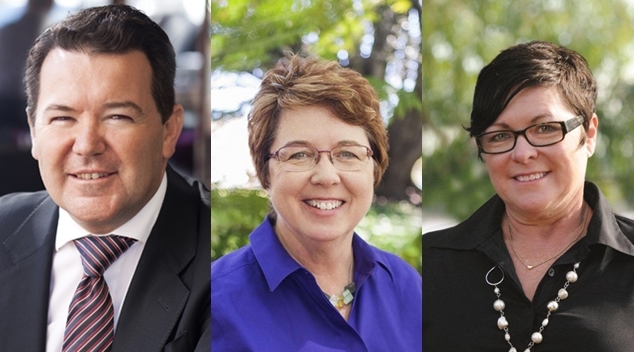 Ahead of the state election here in Western Australia, LGBTIQ voters had the opportunity to discuss local issues with representatives of Labor, the Liberals and the Greens at a forum hosted by OUTinPerth at The Court Hotel.
Greens MLC Lynn MacLaren, Maylands MLA Lisa Baker of WA Labor and federal Liberal Senator Dean Smith took to the stage to field questions from host Graeme Watson and the audience last month.
Dozens gathered to pitch questions to the three representatives, and while the evening had an LGBTIQ+ focus – the questions reached far beyond queer-specific issues. Safe Schools, de facto relationships, Roe 8, jobs, prisons, the potential sale of Fremantle Port and much more were raised with the three politicians over the almost three hour session.
Below is a summary of just some of the topics covered at the event and what the representatives had to say on the issue.
---
ECONOMY

The panelists were asked how Western Australia can look forward as our lucrative mining boom comes to an end, how their parties will provide job security to those already employed, as well as expand and create new jobs and industries for the future.
Lisa Baker
"For WA Labor, jobs are the entire focus for the majority of this last two years. Two years ago we knew this was coming. Anyone who has any understand of the labour market knew that Western Australian unemployment was going to be significant by the election.
We've been working on where the 21st century jobs will be and what we want to see happening in this area. In a fairly weighty document Mark McGowan released some time ago… we've been looking at the go-to jobs for the decline of mining which includes tourism and agri-business.
We're also trying to make sure that our manufacturing industry and kick a few goals for the labour market in WA and you'll note that the controversial activities that we call Metronet outline building rail carriages in Western Australia. We've seen a lot of trades being brought in from off-shore, a lot of professions where we've bought skills in and it doesn't take a lot to figure out that that is no longer necessary."
Baker also said her party has a policy that will freeze TAFE fees to encourage more people to study trades.
Lynn MacLaren
MacLaren agreed with Baker on the revitalisation of TAFE, but said the Greens had a different approach.
"We will actually be releasing a policy that reduces fees because we think they are way too expensive now and freezing them now doesn't really help. We'd like to be pressuring Labor to soften their stance on TAFE fees and it is a path to our future because people need to retrain.
"Successive governments, both Liberal and Labor, have gutted our manufacturing industry… we saw jobs going offshore and we saw mining companies playing the piper's tune and that's still happening now because no one feels strong enough to stand up and say no."
MacLaren listed a bevy of other areas The Greens would seek to provide more jobs, including a $100million investment in tourism, bringing scientific expertise back into state government departments such as Parks & Wildlife, Conservation and Transport Planning.
Dean Smith
Senator Smith said that in many areas, these three LGBTIQ politicians work together well but said the Labor was an obstacle to jobs in our state.
"If Lisa has read the document she mentioned, she will notice that Labor opposes uranium mining so there are no uranium mining jobs, Labor opposes GM cropping so there are no improvements in agricultural production and agricultural jobs.
"What is fundamentally important at the moment is the economic insecurity being felt in Western Australia and people's access to jobs. While some people might not want jobs in uranium mining or live exports, what's important is that we create jobs that are diversified so that people have job options."
Smith agrees a commitment to tourism is important as it helps provide that diversification in the economy. He also says the government will soon reveal news about international education which will provide jobs and state revenue in that sector.
---
SAFE SCHOOLS
On the Safe Schools anti-bullying program, the MPs were reminded of each parties position – The Greens support the program, Labor have pledged to fully fund Safe Schools if in government while the Coalition will let it end once its federal funding expires.
Senator Smith was asked directly how his government could not continue Safe Schools when they have a commitment to suicide prevention.
Dean Smith
"There has been a demonisation of the Safe Schools program. If we had our time again, and if Roz Ward had her time again, I hope we would have done this differently but Safe Schools is important. If the Liberals are re-elected, I will argue the case for Safe Schools within the Liberal party.
"More importantly than that, and this is a point that is often not understood by most people. In Western Australia we have 543 independent public schools. IPS give teachers, community members and parents greater say in their school communities so they can influence school environments.
"That's important because parents of LGBTI students can get on those boards and say that they want Safe Schools in their curriculum."
Smith says he would argue that in WA that we can have a responsible Safe Schools program that is endorsed by parents and the community. The senator says that bullying is insidious, and that Safe Schools programs are imperative because "unfortunately LGBTI people need to be taught resilience."
Lynn MacLaren
"There are some benefits of the independent public school system, but the fact is as a state government you have to look after everyone. You have to provide a safe school environment for everyone, it's our job. It's what the taxpayers give us money for.
"It doesn't mean on an individuated basis where people who have the time to get on a school board and actually knows what Safe Schools is about. That is not a good thing, you need a lowest common denominator; "Every school is safe." It has to be a safe school. That is a human right. It is not an option."
Lisa Baker
"Labor has agreed to fund the state's Safe Schools program after the federal government walked away from it. I sit on two IPS (independent public school) boards, my partner has been the principal of the flagship IPS college in Western Australia for the last ten years."
"I have suggested on my boards that we make sure that we're dealing with equitable programs that take care of our students. Yes, my schools respond but they don't have the money to do this. We're currently asking people to find the funding from what they save from not hiring teachers, or not hiring education assistants – that money is gone. Labor has said we'll put that money back again."
Baker says a safe school environment is indeed a human right as her Greens counterpart had suggested.
---
PRISONS
On crime, it was put to the panel that there is an issue with our prison system being over-loaded, and that no new prisons were being built. With the Liberal Party and Labor announcing they will be "tougher on crime" when dealing with drugs and dealers – what is the best way to approach drug crimes and how will this effect our already crowded prisons?
Lynn MacLaren

"There's a three pronged approach to dealing with substances. One is harm reduction, one is prevention & treatment and one is rehabilitation.
"We spend 76% of the budget allocated to dealing with this into this crime issue and putting people into prison. Into police and customs… Only 2% is spent on prevention and the remainder is spent on treatment.
"The Greens policy that we've released today is basically flipping that around. It's saying yes, we need to stop supply and that is a criminal offence that is worthy of a jail term but we need to put more of that dollar into treatment facilities so that users have an opportunity to stop using.
"If you get into prison, your opportunity to stop using is gone. It's not solving the community problem, it's multiplying it."
MacLaren noted that she had just arrived from a forum with her federal leader Senator Richard Di Natale who was discussing a similar approach in Portugal – which has yielded dramatically good effects. The WA Greens are calling for a treatment based, health-care approach to drug users.
Not being soft on supply but prioritising stopping demand. MacLaren also suggested releasing minor offenders, such as those who have defaulted on fines, to tackle the crowding problem.
Lisa Baker
Baker agreed that prisons aren't a one-stop fix for criminal behaviour.
"One of the challenges of this nexus between the reality of prison's not helping people and the public perception that we should lock everybody up unless you're soft on crime is that there's a real challenge in getting that balance between prevention and remediation and balancing your investment in that as a state government.
"For me the most important thing is that if someone is sent to prison that if they're going to be released it is the complete responsibility of the system is that person is a better person than when they went in.
"What we have is a system that puts people into prison to teach them how to be better criminals… what happens when people come out is that there's no services for them and the cycle continues.
Labor has a justice reinvestment policy to spend more money on keeping people out of prison instead of building more. However, Baker said she and her party have no tolerance for drug dealers.
Dean Smith
Having a father and brother in police force, Smith agrees with Baker that people should come out of prison better, through rehabilitation and through spirituality – whatever that means for them. In the context of Meth, Smith says we need to stand up.
"While we have different perspectives on the issue, we all start from the same place. We want people not to commit crimes, learn why people commit crimes and for them to be healthy."
---
LIBERAL / ONE NATION PREFERENCE DEAL
Senator Smith was again questioned directly, this time on the WA branch of his party making a preference deal with Pauline Hanson's controversial One Nation party. The senator was asked how he could abide this deal when One Nation candidates had been found to be expressing views that were insulting to the LGBTIQ community.
Dean Smith
"I have given a speech in the Senate on why conservatives should support the Safe Schools program. I can't speak for other people but I can speak for my own actions and when I give people a commitment I follow through on that commitment.
"The introduction of Safe Schools does not require a legislative amendment. It does not require a bill of parliament. It can be an action of government. There will always be critics, Senator Joe Bullock of Labor had very clear views against the program. People with strong views exist across the spectrum. I will be responsible for my own actions.
"It's true that the party has made preference deals with One Nation, I won't deny that, but it doesn't mean that I can't stand up for myself and do the things that I've committed to."
---
RELIGIOUS EXEMPTIONS
Following an incident at a Mandurah high school last year that saw a student threatened with expulsion for having a gay father, one audience member asked where the MPs stood on religious exemptions for schools that can allow discriminatory decision making.
Lisa Baker
"Speaking personally, I will fight religious exemptions in schools to the end. I don't think it's okay in any universe for this exemption. The Labor Party don't have a policy on this yet, we've been a bit busy with expunging [historical convictions for gay & bisexual men] and a few other things.
"You know what our policies are around Safe Schools, expunging, employment and legislative filtering to make sure indirect discrimination doesn't flow out of legislation… but that is how I would deal with this issue, review policies to make sure that discrimination is not directly or indirectly impacting on LGBTI communities."
Lynn MacLaren
"The Greens made a commitment at the federal election that we would address this problem and we all agree within the Greens in all states that there shouldn't be religious exemptions.
"I know Lisa's an ally, I know Dean's an ally so that is something we will work on together. I can put up a bill… and that will put it on the agenda and that means the Labor Party has to come to the party!"
---
OVERSEAS MARRIAGES & DEFACTO RELATIONSHIPS
Referencing the tragic case of a man from the UK who died while honeymooning in Adelaide with his husband, the widower was forced to endure the painful ordeal of not having his marriage recognised on Australian soil – leading to South Australian Premier Jay Weatherill proposing and enacting an overseas marriage register and granting de facto rights to same sex couples married elsewhere. The panel were asked if WA had similar plans.
Lisa Baker
"There would be no question in my mind that that would be something Labor should do.
"We don't have a policy that I'm aware of at the moment but my gay colleagues in the party and I have talked about it and we all have the same conclusion that we need to have a new arrangement that recognises marriage and a civil union component should be looked at very carefully."
Lynn MacLaren
"There's just been a law passed in South Australia that recognises overseas marriages. So it's doable at a state level which clears the constitutional part. Tasmania has done it as well.
"If you want me to do that I will, but I am personally gutted that the federal government has failed us for so many years in passing this marriage equality bill. If it's something we can towards that, and it doesn't hurt anyone so I will pursue it in the next state government."
---
OIP Staff