Ovarian Cancer: The Reality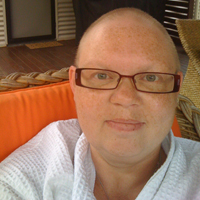 'You think you are going to die, especially when it's stage four and they've taken so much of your body away.'
Jay Greenaway is a 39 year-old lesbian living with ovarian cancer. Eight years ago, at just 32, doctors discovered she was 'full of cancer'.
After years of living with endometriosis, a common gynaecological condition, Greenaway decided to have a hysterectomy. At the time, her gynaecologist refused to perform the intrusive surgery since she was only 32 and hadn't been pregnant yet.
Greenaway sought a second opinion, despite her gynaecologist's recommendation. This second opinion saved her life.
'It was stage four when they found it which means it was in my ovaries, my uterus… my large bowel. I can smuggle drugs in my belly now, there's nothing there,' Greenaway said.
'They discovered it on the (surgery) table, so if I hadn't pushed and said "I really need this hysterectomy", I would probably be dead. The second opinion saved my life.'
In Australia, three women are diagnosed with ovarian cancer every day.
Living in Katoomba in New South Wales' Blue Mountains region, the 39-year-old described the last eight years as an emotional rollercoaster.
'I have had many, many varieties of chemotherapy. I've been having treatments over the past 18 months without a break – which is not much fun,' she said.
Greenaway had experienced constant nausea, vomiting and diarrhoea among a long list of reactions due to the three-weekly chemotherapy treatments which her life now revolved around.
'I've had three periods of remission over the last eight years where I have had nine to 14 month-long breaks in between … I've been in a relationship for the past 15 years; I have my friends, I work when I can and just keep living,' she said.
'You can be very happy and then very sad. It's a bit like Mardi Gras, and then the morning after.
'I don't know any lesbians who have ovarian cancer. Lesbians with ovarian cancer are few and far between because people generally die straight away.
'To find somebody else would be nice.'
According to Ovarian Cancer Australia, only 40 per cent of women with ovarian cancer will be alive five years after diagnosis.
But if the cancer is diagnosed early, up to 80 per cent of women will be alive and well after the initial five years.
'It's not a very popular cancer,' Greenaway laughed, driving the point that people became 'wrapped up in the big' cancers while the smaller ones, like ovarian cancer, were overlooked.
Women over 50 years of age or a family history of the disease are still the dominating factors for ovarian cancer but other factors that may increase your risk include having no or few pregnancies and never taking oral contraceptives – which puts lesbians and bisexual women at a greater risk.
Trans* men or female-to-male people also share the risk for ovarian cancer. Aram Hosie from the WA Gender Project said trans* men who had not surgically removed their ovaries were at the same risk as women.
'In addition to this standard level of risk, many trans* men are very uncomfortable having screening procedures, which can mean that if cancer does develop it is not detected until it is more advanced, resulting in poorer outcomes,' Hosie said.
While trans* men with ovaries had access to the same services as women theoretically, Hosie said there were still boundaries.
'Many medical services and professionals, particularly in the public health sector, do not always respond appropriately to men who have ovaries – which can make prevention, detection and treatment much more problematic,' he said.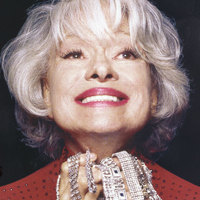 Broadway superstar, gay icon and ovarian cancer survivor Carol Channing also survived ovarian cancer and exclusively told OUTinPerth she had been lucky she was diagnosed early and stressed the importance of keeping active and upbeat in the face of adversity.
'Don't let the idea or thought of illness stop you from doing what you can or want. Don't let anyone convince you to slow down or stop,' Canning said via correspondence from America.
'Activity is so important. I don't recall the treatments or physical changes I went through anymore; just how much the love and support I got from others played such a huge part in my healing. I can also say that I was lucky to have been diagnosed early.'
February is Ovarian Cancer Awareness Month, highlighting the symptoms of ovarian cancer and raising funds for programs throughout Australia. Remember to wear a Teal Ribbon on Teal Ribbon Day, Wednesday February 23, or host your own Afternoon Teal. Find out more information at www.ovariancancer.net.au.
Benn Dorrington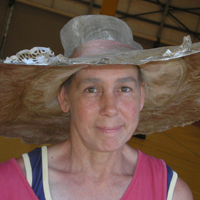 Western Australia's LGBT community recently lost a great influence to the gay and lesbian movement when Sue Ravine passed away from ovarian cancer on January …. The …-year-old had been instrumental during the early years of Pride WA and had help build up the community to what it was today. Our condolences go out to Sue's family and friends during this time.
***