Passing – A thought provoking Fringe show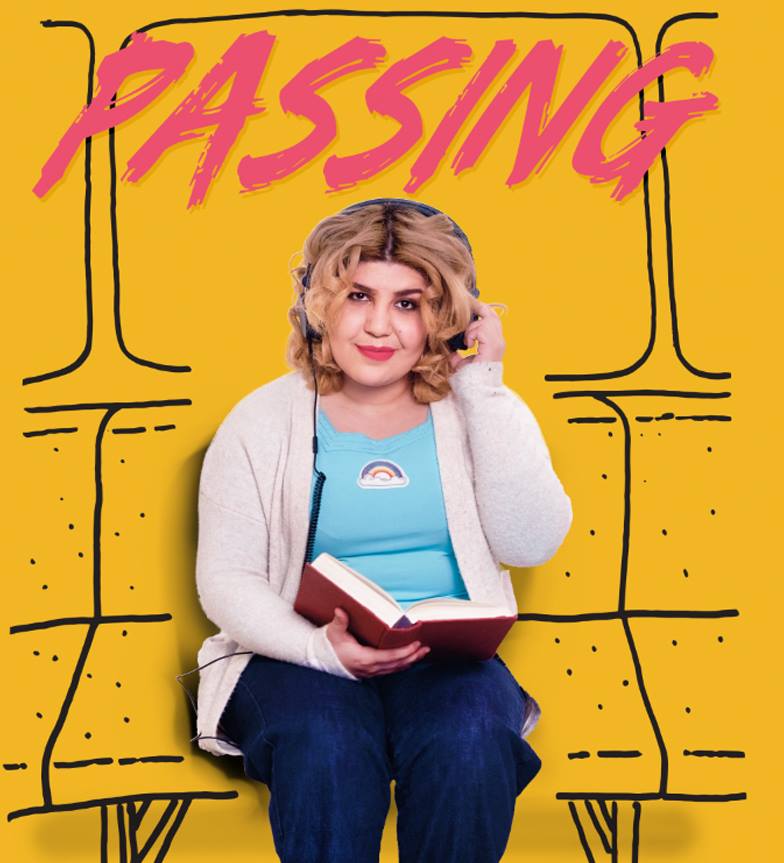 Fringe World Festival is just around the corner, and with it comes a host of new and thought provoking works, some of which are debuting at the festival. One of these works debuting is Passing, a show by director Angela Donlan and performer Sahra Hamadi, which seeks to explore cultural identity, the journey of those who came before you, and the complex task of negotiating the world of family, sexuality, heritage and religion. OUTInPerth sat down with them to discuss the show.
Sahra, performing solo in the show, is a 20-year-old half Caucasian, half Algerian artist, whose own story and experiences are reflected in the show. Speaking to her, she revealed how the show has meant to her. "It has been a cathartic experience, to open yourself up, and to reveal yourself. I think that whilst my character Sara goes on this journey to discover her identity, I have also gone on that same journey with her, but in real life."
Angela, a recent Curtin University graduate with a host of directing and performing credits under her name, is quick to point out how the conflict in the show is drawn from real life experiences, and is reflective of many's own stories. "A lot of the characters we present have been inspired from the interviews we conducted as research, which means they were inspired by conflicts our interviewees had regarding this intersectional space…  no matter what your cultural background or sexuality is, I think everyone has experienced moments of not fitting in, and feeling like they should change some part of themselves in order to do so. Sara lives in this space, and I think audiences will strongly connect to that."
Both of them spoke on the importance of creating a work that focuses on the intersection on what it means to be queer, and having a culture behind you that hasn't necessarily always been supportive. "It's always a complicated relationship within both communities, some groups within the queer community say 'how can you be Muslim and queer after all the Islamic community has and still continues to put the queer community through' and some groups within Islam say 'you can't be Muslim if you're queer" so we tried to communicate that confusion in small ways throughout the show." Sahra told OutInPerth.
Angela also weighed in on the issue. "it's important to realise that embracing either cultural heritage or queerness doesn't have to mean a rejection of one or the other, and that the two can and do coexist, and that's what we're exploring in Passing."
The show is explained as being devised from start to finish, and with it has come a whole set of challenges for the women behind it. "Devising is essentially creating something concrete from something abstract. Luckily we had a huge collection of experiences to draw from, as well as three core ingredients we wanted: physical theatre, story telling and interaction." Angela explained.
In conversation, Sahra also discussed the challenge of incorporating other peoples experiences into the work, with the consideration that it is so deeply personal. "At first it was challenging, as we did have lots of differences in our experiences growing up in terms of parents and how they did or didn't introduce us to Islam, but we started focusing on the things we had in common instead- comments on the train, having to explain the same things to strangers, our complicated relationship with Islam- and it started forming well. We have created a general plot from one main experience and interspersed it with lots of those similar moments and little experiences that we all face."
By talking to the creative team behind the show, it is obvious that they have been very delicate and careful in how they have approached others stories, whilst keeping true to the themes of the show. "It's all a big blurred mess of intersecting issues that have a knock-on effect with each other, in Passing as I think they do in life." Angela mentioned.
And how do they feel about their professional partnership?
"It's really special working with a performer who's as in sync and Sahra and I are." Angela said, in almost perfect synchronicity with Sahra, who responded with "We are both very much in sync, and it's hard to describe the feeling, but she gets what I'm trying to do and say, and vice versa."
Passing is presented by Improve Silence and is on at Fringe World Festival from February 1-3. Tickets are available at fringeworld.com.au
---
Support OUTinPerth
Thanks for reading OUTinPerth. We can only create LGBTIQA+ focused media with your help.
If you can help support our work, please consider assisting us through a one-off contribution to our GoFundMe campaign, or a regular contribution through our Patreon appeal.