Passionately Pagoda – Why I Love My Car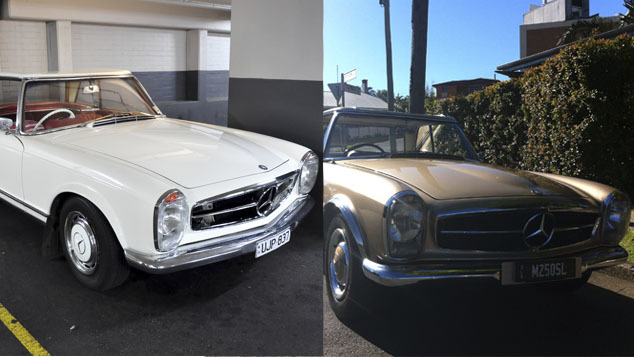 Tim Brown and William Stuart on their Mercedes Benz SL W113 and the art of everyday glamour.
Tim Brown
1965 230SL W113 off-white 'Pagoda' Mercedes Benz. Red leather and Chrome interior. Scheduled for restoration later this year, 'Audrey' has been roaring around Perth with Tim for around 18 years, on and off….
First and foremost I love it for the design; it's a particularly beautiful car – it's an iconic car particularly because of that roof, it's the only car that has that negative detail on the roof. It looks as good with its roof on as without which is unusual, because most convertibles when you put the roof on they look ludicrous, and it doesn't – which is nice.
There's not a better city in the world for driving a convertible in than Perth although it's bloody hot in the summer. You look really glamorous, but God you pay. It's a funny thing everyone says 'What a great car!' but if it's the middle of summer and you're caught in traffic you might as well just be sticking your head under a grill.
But when the sun goes down it's a completely different story and I feel many times that car has actually saved my life coming out of Connections at 4am in the morning in the way its allowed me to reset my state of mind. I think that's kind of crucial the amount of joy it gives me.
Mine is my everyday drive I have driven it every day for around eighteen years and that's really important in context because its' a measure of reliability. Everyone's 'It must break down all the time and I'm like 'No – cars were built very differently in 1965 to now'. They were built to last, and everything can be replaced, can be fixed. She's broken down – I couldn't say she hasn't broken down – she's gone on the back of trucks several times – but balancing that out she's made to be driven and she's made to last forever.
She's idiosyncratic but that's part of her charm as well. She's hot in summer she leaks in the winter. There's no air-conditioning, all those creature comforts, electrics and all that malarkey – none of it.
Because it's my everyday drive I forget that she is far more difficult to drive than a normal car…actually not more difficult to drive, she's dead easy to drive –she's just a car where you have to think about how to do a gear change. You actually feel like you're in touch with the car when you drive in it – it's a much more collaborative process way driving.  It's a very different mindset and that's the way I love it.'
William Stuart
1967 250 SL, W113 Metallic Beige (Champagne Gold darling)  'Pagoda' Mercedes Benz, Beige and Chrome Interior. William brought the Merc from the UK in almost pristine exterior condition, however he had the coachwork extensively renovated to its original Mercedes spec by Silchester Garage, Hampshire. Although delivered new to the UK in November of 1967 the car spent most of its life in Cape Town South Africa which has a climate not unlike Perth so the car has escaped the terrible rust issues of European cars due to the salt used on the roads in winter.  
It's really a childhood thing. I came from a family where most of them were farmers in Africa. The choice of farm car was a Mercedes – it wasn't because they were posh it was because they were the most reliable vehicles you could buy, they would last forever.
My aunt had a Mercedes Benz four door -190 Diesel W111 the old fin tailed type. It was black with an all red interior and I remember she used to start that with a Swiss army knife, I mean the car just went forever.
My Dad's sister had a 190SL which was a vehicle that they brought out in the fifties – it that was the one that was synonymous with the gull wing style with the lift up flying doors. She didn't have a gull wing, but she had a 190SL and I LOVED that car – I loved it so much! Every time I saw it I just wanted to be in it all the time. This vehicle I have is the next generation of that. So it really goes back to when I was a little fella, that's never left me. My late father he was always a car man he loved cars, and I guess that just bit me!
The chromed front end grill of the vehicle with its BIG star and the horizontal line is really vital to its design coming from the 190SL and if you look at the new Mercedes Benz that are out today they've come back to the BIG star. I always have a little smile when I see that little bit of history repeating.
Most of the 230SL and all of the 250SL and 280SL were fuel injected; all were straight six cylinders with alloy head – quite rare for that era. I remember at a car club show last year there was an old 'Holden HD' 1966 there and we compared the engine bays. It was like comparing 'Little House on the Prairie' to 'Star-Trek'!
It's such a versatile car …I mean…  I love the sound of it, I love the little bit of history repeating, I love the get up and go on the highway and I love the look of it when it's stationary with the hard top on … it looks fantastic!
Pagoda Notes
A glamorous little beast, the Pagodas were, and are, the sports car of choice for many celebs, with notable fans including John Lennon, Audrey Hepburn, Kate Moss, Priscilla Presley and more recently Dawn French.
The 230/250/280 SL Pagoda series went into production from 1961 and remained in production until 1971. According to the Mercedes Benz Pagoda Group fan club, the third in the series to be produced, the 280, is now the most valuable of the series. The 280 was beefed up with improved horsepower and a more reliable crankshaft. There is debate over which of the three is the better vehicle though, with the original 230 getting snaps for elegant finishing details and being lighter and more of a sports car. The 250, not to be left out, strikes a happy medium, with the charm of the 230 minus the emission control problems of the 280.
The Mercedes 230/250/280 SL coupes were designed by Frenchman Paul Bracq during the ten years that he spent as the head of the Sindelfingen studio of  Daimler-Benz from 1957-67. Whilst not his base design, while at Benz  Bracq was also credited with the unique rear tail of the  W111 Fintail series. Prior to his appointment at Daimler-Benz, Bracq was involved with the design of the French Presidential Limousine for Citroën and following the Benz decade he moved to BMW where he was instrumental in the design of the Turbo Concept and the revitalisation of the BMW sports car line-up in the 1970s.
FIVE of the Best:
The Mercedes Benz 230/250/280 SL ('Sports Light') are affectionately known as 'The Pagoda' sports cars due to the unique shape of the removable hard-top roof. The slightly raised edges and the concave centre of the roof give it a floating 'Japanese Pagoda' look. For fans of the SL series there's plenty of other features that make this car a standout. Tim and William give us five of the best…
ONE – The design…
Tim: There's a humility about the design. It's got a beautiful nose I think the view from the front of the car with the grille, that low wideness of it, the concave roof, and the view of the dash… it's actually quite muscular and yet it's very petite.
William: When it's standing still with the hard top roof on it, it looks absolutely spectacular… but …
TWO – The way she moves…
…it's very sexy when it's moving, at high speed! It just loves driving fast, it really does, and it hugs the road beautifully.
I have an Audi a4 Quattro and that hugs the road beautifully – this car, although it sits a little higher, well, it's just as good, and it loves being floored! It loves the overtake, which blows people away because they don't expect old cars to all of a sudden get up and go.
THREE – let's make some noise…
William: I love the way it sounds, it has a stainless steel exhaust so it has this wonderful crackle sound when you're taking off in it, which sounds really wonderful!
The radio works fine and I even have an iPod adapter for it. It's the original Becker radio from the nineteen '60s plugged in the back of the lead that's plugged into my iPod so I can listen to Shirley Bassey or I can listen to the latest Ministry of Sound but actually when I'm driving I actually like to listen to nothing except the car… it's great!
FOUR –  She's versatile…
William: It's a day to day car you can drive it every day – it has a soft top that collapses that down into it and it has the hard top removable, so in winter you put the hard top down or heading into winter like now I haven't got the hard top on, I've got the soft top down. It's nice and warm and cosy – the heater works really well. If I needed to if there was a rain shower, I could throw the hood up so it's a very versatile vehicle. Over in Queensland there are lots of dry days in winter so it's a nice time of year to actually have the top off!
FIVE – Everyday glamour
Tim: Funnily enough the simplicity of the experience of driving an old car. There's the simplicity and honesty, you actually know you're driving it and you have to think about driving. A simple proposition balanced out by this wonderful glamorousness – you feel a million dollars driving this car; people always comment on the car their response is always really positive.
Zoe Carter
Like this story? Here's some others
Stuart Pekin about his love of the Citroën 2CV
Kate Duell and her Holden Crewman SS Ute.