Patrick Coward's 2000 Bentley Arnage
4.4 lite twin tur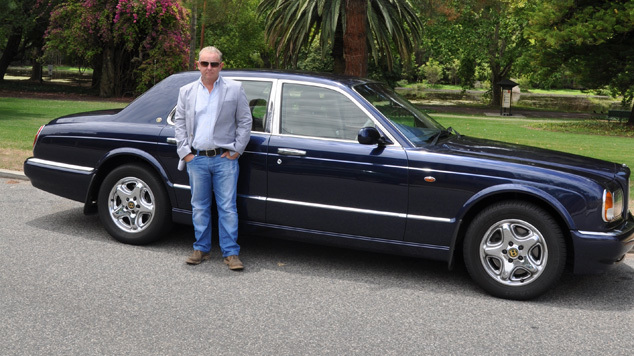 bo charged BMW V8
Businessman Patrick Coward's car is a real eye turner. The distinctive Westminster Blue Bentley with its parchment leather interior is the height of style.
The owner of the Margaret River Chocolate Factory, Margaret River Providore and Coward and Black Winery admits to a long love of cars, 'I think I've had about twenty two cars so far, my first car back in 1981, it was a Holden Kingswood with a column shift. I've had Fairlanes, a couple of Holdens, a really old 1951 Landrover soft top and a couple of Jags'.
'I bought this car in Sydney a few years ago. It is an unusual car with a rare engine configuration. In 1998 Rolls Royce and Bentley Motors, then owned by Vickers, commissioned BMW to make them a powerful new lightweight engine for their next generation flagship car to be named the 'Arnage' after the famous racing corner at Le Mans.  BMW came up with a 4.4 litre V8 engine with twin turbochargers, developing 260 kW and 569 N• of torque. At the time of its release it was the fastest and most powerful 4 door saloon on the market.'
'The Arnage is the pinnacle of the grand opulent touring saloons. The Bentley State Limousine commissioned for the Queen's Golden Jubilee and still in use is an adaption of this model Arnage. There is an irrepressibly timeless atmosphere about the interior. It still has the same vent controls and dials as the original 1950's car.  Fold down picnic tables, reclining rear seats and vanity mirrors mix seamlessly with rear seat televisions, wireless headsets and GPS.
'It is said that Bentleys are built for the driver and Rolls Royces for the passenger and even though it's five metres long and weighs two and a half tonnes it's as nimble as a sports car. It is the quintessential country tourer but it's still nice to know you can give a Monaro a run for its money from a red light should the need arise. On the open road it is so quiet you can hear the analogue clock ticking over. Each car was built entirely by hand with four craftsmen making and fitting the Connolly hide interior, solid walnut burl trim, Wilton carpets and chrome everything.
Coward admits that he is careful where he parks the Bentley, noting that he stays clear of shopping centre car parks. For running around town he has a second car, a Jag – also perfectly matching in Westminster Blue.