Pink Dot returns to Singapore this weekend after a two year hiatus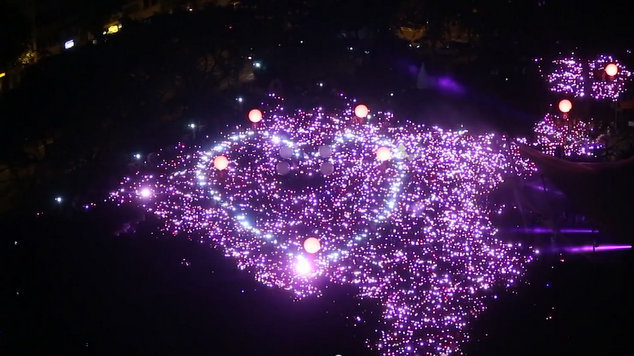 Singapore's annual appeal for LGBTIQA+ legal recognition returns on Saturday 18th June. The event has not been held for the last two year's because of the Covid-19 outbreak.
Since it first began in 2009, Pink Dot has attracted larger crowd each successive year with over 28,000 people gathering in Hong Lim Park to shine a pink torch lights into the air as a call for LGBTI rights in the island nation.
In recent years the event has been moved to the day time and foreigners have been banned from attending, and multi-national companies have been prohibited from sponsoring the event.
While the Singaporean government continues to rack down on the event, organisers have found creative ways to spread their message about acceptance and understanding including encouraging people to put up pink lights in their house during the month of June.
Pink Dot SG spokesperson Clement Tan said everyone was looking forward to the 14th outing of the event.
"We're excited to return home to Hong Lim Park. The feelings of kinship and community is something we've all missed dearly during the last two years, especially after how difficult the pandemic has been for us, and our disappointing loss of the 377A constitutional challenge," Tan said.
Section 377A is a the British colonial era law which outlaws homosexuality. While many former colonies have removed the law, Singapore continues to keep it in place. A recent series of legal challenges that argued that the law is unconstitutional were not successful with the courts saying it was up to politicians to make the change.
The conservative government has promised to review the laws in light of changing community attitudes.  Participants will be invited to write messages of hope and change on physical placards with organisers calling on participants to collectively envision what a more inclusive future could look like.
Local businesses have contributed to staging the event. Ho Ren Yung who is Vice President of Brand HQ at Banyan Tree Group said the event was about creating a shared understanding.
"Freedom to love is a basic human right, a core value built around diversity and inclusion. We are living in an increasingly divided world," said Ho Ren Yung. "The ability to reach across the spaces between us, for dialogue and co-created understanding, is what will keep us safe."
Find out more about Pink Dot at their website.
OIP Staff
---

You can support our work by subscribing to our Patreon
or contributing to our GoFundMe campaign.