Portia Surprises Ellen For Their Anniversary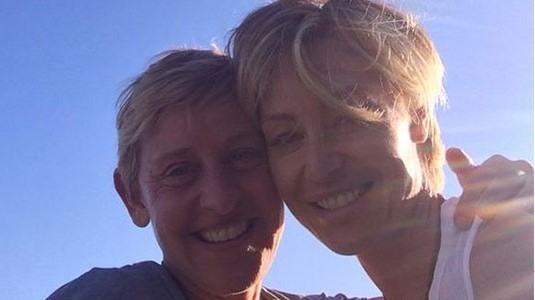 Comedian Ellen DeGeneres and actress Portia De Rossi, a.k.a. the Patron Saints of True Love celebrated their sixth wedding anniversary on Sunday in typically adorable style.
Ellen tweeted the following in response to a romantic gesture from Portia:
Skywriting. A romantic classic for a reason. Portia had the number of years they'd been married emblazoned across the blue Los Angeles sky, making a proud public statement of her commitment to her wife and inadvertently warming the hearts of a number of children across the city celebrating their sixth birthday that day.
The tweet follows apparently unfounded speculation that their marriage was on the rocks due to the Four Horsemen of Celebrity Relationships: Fighting, Cheating, Addiction and Rehab.
Ellen spoke out about the rumours to People magazine earlier this year, saying:
"The truth is, and this is corny, I fall more in love with Portia all the time. I really do. She surprises me all the time."
"It's what anyone experiences when you find that person that gets you, wants to take care of you, wants the best for you. We're really lucky because we know how rare it is."
With everyone's favourite poster couple flying the flag for everlasting lady love and The Journal of Sexual Medicine publishing a study stating that lesbians experience more orgasms during partnered sex than bisexual or straight women, it appears that this week, lesbians really do have it all.
Sophie Joske