Pride WA host official PrideFEST launch at State Theatre Centre
Pride WA have officially revealed the 2017 Pride Guide and launched this year's festivities.
President Andrew Barker began the proceedings by thanking Federal Senator Dean Smith, state MPs John Carey, Stephen Dawson and Michael Mischin, Town of Vincent Mayor Emma Cole and City of Perth Councillor Janet Davidson.
Barker also acknowledged the hard work of his Pride WA management colleagues; Senior Vice President Frances Burgess, Vice President Jeremy Wray, Secretary Curtis Ward, Treasurer John Hugo, Events Subcommittee Chair Roscoe Holyoake, Tania Giorgetta, Michael Della Maddalena and Karron Swinn.
The Pride WA President also spoke on the decision to have PrideFEST return to a month long celebration, explaining that they hoped the extension would encourage city-dwellers to head out to the exciting new regional events happening in the South West and far North, as well as encourage regional Pride-goers to head in for the main event and Parade.
Vice President Jeremy Wray then took to the microphone to thank the festival's sponsors, sharing that Lotterywest have committed to extended funding for the first time.
"I'm proud to recognise that [Lotterywest] have just signed on for their first tri-annual funding agreement, it is a key for us to be able to support a lot of the Pride events in the regions happening around the state this year."
Wray also encouraged LGBTI+ Western Australians to use the festival season as a time to remembers LGBTI+ leaders and pioneers past, and to celebrate the freedoms they have afforded today's generation.
"I've been in 35 countries across Africa, Asia and the Middle East. Looking back on that I feel that I'm very lucky to be in Australia and Perth – in this beautiful city that we call Perth – to be able to call this home. For me that's why I believe we should celebrate the freedoms that we have."
"Yes we're still going through this horrible wasteful process that is a marriage equality plebiscite but we have so many freedoms here that so many others in the world don't have – so I think that's why it's important to celebrate the freedoms we do have."
Perth MLA John Carey delivered an impassioned speech while representing the state government and Premier Mark McGowan, leading with an appropriate quote from the late Harvey Milk.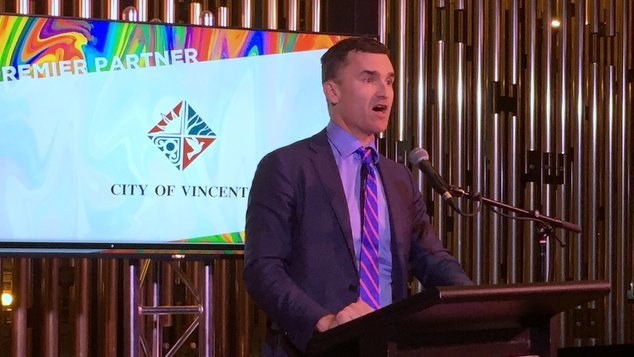 "It takes no compromise to give people their rights. It takes no money to respect the individual. It takes no political deal to give people freedom. It takes no survey to remove oppression."
"I have to say Harvey, unfortunately Australia didn't listen to you because we are faced in the current context with a survey," Carey joked.
The openly gay MP noted that no speech tonight would not be able to avoid mentioning the postal survey on marriage, as it defines the context in which Australia's LGBTI+ community must live.
"There is no doubt that this debate has brought out the worst. There has been bigotry. There has been explicit hate. This has been fostered by some political leaders… but I'll say this, the debate has brought out an undercurrent that has always been there. There has always been homophobia and discrimination. I can say that personally as a man, as a candidate and now as the member for Perth. It is guaranteed that if someone wants to go me, to criticise me, they will target my sexuality," Carey said.
"From this debate we've also seen the best of our community. We have been strong. We have been resilient, and more than ever we have become connected. We have become activated and we are seeing new people coming through that will go beyond the debate."
Carey urged attendees and Western Australians to ensure this strength is carried beyond the debate to make sure the LGBTI+ community can overcome future obstacles.
"It must go beyond the debate. When the survey is won, and it will be won, when marriage equality is won and delivered in the parliament, there will still be struggles and fights. There will still be youth suicides. There will still be transgender discrimination. There will still be that undercurrent of homophobia. That is why I am here tonight, because organisations like Pride WA are a critical force now and into the future."
Federal Senator Dean Smith followed the Perth MLA, recalling his own personal Pride experience and reflecting on his own views of marriage as a member of the Turnbull Government.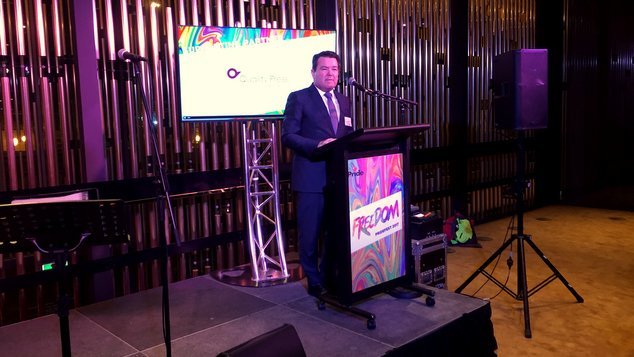 "Marriage is not for me, but that doesn't mean I don't understand how important it is as a symbol, as yet another plank in the lives of young people to say 'it's okay' and more important than that; 'you are okay'."
Senator Smith said enduring the survey has been a "rollercoaster", and expressed disappointment in his party for allowing the postal survey to go ahead.
"Some of us have been reminded there is an undercurrent of attitude in this country that isn't welcoming. That doesn't care to understand. That does seek to hurt the experiences of LGBTIQ people. That sense of pride and excitement that I've had over the last few months has also been met with great disappointment."
Senator Smith said he was also disappointed to be the only Liberal senator not to vote in favour of the government's plebiscite policy.
"But in all of these experiences we learn more about ourselves, we learn more about the task that's ahead of us, and if there's one thing I've learned in my five years of being a senator for WA it's this; it's important to be visible."
The senator encouraged Western Australians to look out for one another as the survey continues.
Vincent Mayor Emma Cole followed Senator Smith, sharing that her proudest moment in her eight months in the role was raising the Pride flag outside council HQ.
"We then went and raised one at Axford Park, we then put Vincent Loves Love banners all the way down our town centre and high streets in Mt Hawthorn and North Perth, and our council, and our staff have been rocking some Vincent Love Loves t-shirts."
Cole noted that the City of Vincent have actively supported marriage equality since 2012, thanking her predecessors Allannah MacTiernan and John Carey – both now members of the state government.
As a member of local government, Cole dismissed criticisms that her role was just to manage the "Three R's"; Rates, Roads and Rubbish.
"I do think as elected members, it is our role to reflect those community values. To me Vincent is a place that is welcoming and it's diverse and it's compassionate and it believes in equality. I think we do need to take a stand, we do need to take a position on issues that are critically important to us. Yes, you have to deliver on your rates, roads and rubbish and do that well, but while you're delivering on those services let's reflect community and let's stand for something."
Councillor Janet Davidson stepped up to represent the City of Perth, congratulating the Pride WA team for the fruition of their hard work.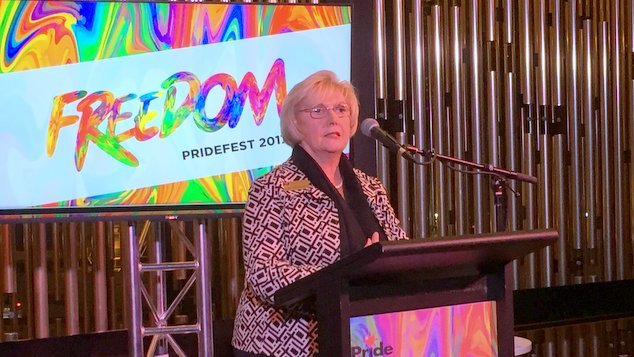 "The theme of course we've heard is Freedom. An opportunity to celebrate, to respect each other, to care for each other and to look after each other."
Davidson then joined Andrew Barker in revealing the guide, and acknowledged the strength of the City of Perth's 18-year relationship with the 27-year-old festival.
The event ended with a surprise video message from WA's own Troye Sivan, who said he was jealous he couldn't be in town to celebrate.
"My name is Troye Sivan, I grew up in Perth, I'm gay as hell," the pop star said.
"I am so so so jealous that you guys are all together for Perth Pride!"
PrideFEST begins Friday October 27th, with the much anticipated Pride Parade through the streets of Northbridge on Saturday November 25th.
Grab a copy of OUTinPerth's October edition for your copy of the Pride Guide.
Update: A previous version of this article suggested that the first event of PrideFest 2017 would be the return of Fairday on October 29th. This was incorrect. the first event is an opening party at Connections Nightclub on October 27th. OUTinPerth apologies for the error.  
---
Support OUTinPerth
Thanks for reading OUTinPerth. We can only create LGBTIQA+ focused media with your help.
If you can help support our work, please consider assisting us through a one-off contribution to our GoFundMe campaign, or a regular contribution through our Patreon appeal.