PrideFEST Today: Saturday November 22nd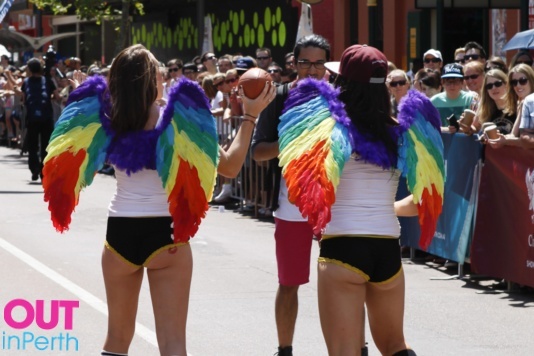 It's the biggest day of PrideFEST and there's so much to see and do! Check it out!
Rally for Marriage Equality and Queer Rights
2014 Pride Parade Pick of the Day!
You can't go past the biggest LGBTI event of the year! Returning to a night time slot, this year's parade is sure to go off with a bang! Every letter of the acronym, ally and friend is encouraged to make an appearance and represent the queer community! 8:00pm, William and James Streets Northbridge.

Connections Pride Party
Three rooms, six DJs, three shows and an infinite supply of glitter! You will be sparkling for days after this awesome post-Parade party! Connections Nightclub, 8:00pm-late.
Garden Party at Urban Orchard
This delightful shindig at the Urban Orchard is a great place to celebrate with friends after the Parade, featuring DJs and pop up performances all night. From 8:30pm at the Urban Orchard 8:30pm.
Court Street Party Presents: 'The White Party'
Promised to be The Court's most ambitious street party yet, there will be four awesome zones to party in and surprises galore! 9:00pm-late, The COurt, 50 Beaufort Street Perth.
International Micro Film Festival
The James Street Ampitheatre will be hosting an LGBTI film per day throughout PrideFEST, screening at midday and midnight. Today the film is.
Joey the Mechanical Boy
Based on an article published in 1959's Scientific American, this play tells the story of a boy who loves machines so much he wants to be one, as well as the psychologist tasked with his care. 7:00pm at The Blue Room.
Those Who Fall In Love Like Anchors Dropped Upon the Ocean Floor
This beautiful new play explores love in different forms, times and places. Check out our interview with actor Renee Newman-Storen here, or our review of the show here. 8.30pm at The Blue Room.
Sordid Lives
This black comedy about white trash sees a family erupt into chaos after the untimely death of "good Christian woman" Peggy. But was she as good as she seemed? 8:00pm at Hackett Hall, Draper Street, Floreat.
Articulating Landscapes II
Ochre Contemporary Dance Company presents this unique work inspired by texts written by Australian authors. 7:00pm at the Masonic Contempory Studio at 6 Broadway Nedlands.
Lesbian Space WA Womens' Only Parade After Party
Celebrate Pride with a bevvy of lovely ladies post-parade. Sure to be an awesome night with DJ Di spinning tunes. West Australian Italian Club, 217-225 Fitzgerald Street, Perth, 9:30pm-2:00am
Synchronicity
WAAPA's classical dance program presents a restaging of Bourneville's classic tale which tells the story of Teresina, a young girl who falls in love with Gennaro the poor fisherman despite her mother's wishes. At WAAPA's Geoff Gibbs Theatre at 7:30pm.
The Big HOO HAA!
Two teams of skilled improvisers face off for an awesome comedy show like no other! 8:00pm at Lazy Susan's Comedy Den, The Brisbane Hotel, corner of Brisbane and Beaufort Streets.
Australian Design: Ten Years of the Peter Fogarty Fund
The Peter Fogarty fund was established to support the acquisition of works by Australian designers and craftspeople. This exhibition presents exceptional works collected over the past ten years including jewelery, furniture, glass and ceramics. Art Gallery of Western Australia, Perth Cultural Centre 9:00am-5:00pm