Promotions galore – new appointments at The West Australian Ballet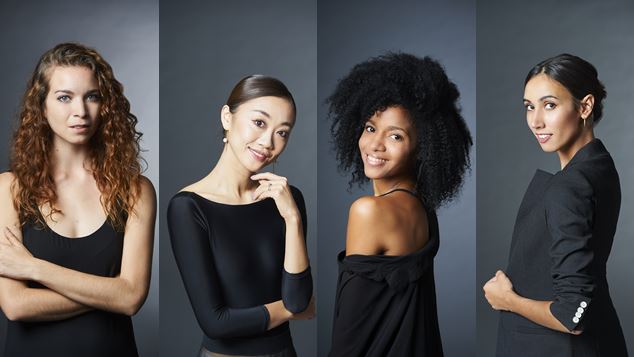 As West Australian Ballet's highly successful season of the iconic Giselle came to a close last night, Artistic Director Aurélien Scannella highlighted the strength of the company's female dancers with the promotion of three dancers and an appointment of a new role to another.
West Australian Ballet has a new Principal dancer with Dayana Hardy Acuña being promoted after her starring performance in the highly technical and emotional role of Giselle.
Since joining the Company at the start of 2019 she's earnt multiple acclaimed reviews including from her pas de deux with off-stage partner Juan Carlos Osma during In-Synch: Ballet at the Quarry labelled "exquisite" by ArtsHub, and during the May season of La Bayadere when Limelight called her performance "Simply beautiful to watch. The fluid control of her movements, the elegance, poise and balance of her attitudes were breathtaking".
Hardy Acuña, who hails from Cuba, and has previously been a Principal dancer with The Joburg Ballet and Liaoning Ballet in China.
The second promotion comes to one of the first dancers hired by Scannella after he became Artistic Director in 2013, Polly Hilton, who has been promoted to Soloist.
A consistent star of West Australian Ballet's productions, Hilton received continued rave reviews for her role as Myrtha, Queen of the Wilis in Giselle and has become an audience favourite with roles such as the Evil Queen in Snow White, Fairy Godmother in Cinderella and Edith in La Bayadere.
Taking Hilton's former rank as Demi-Soloist is impressive American Corps de Ballet dancer Alexa Tuzil. After taking on the challenging roles of Nikiya in La Bayadere and Giselle (in alternate casts from Hardy Acuña), her strong acting and fluid movement has been highlighted by The Australian calling her work as Giselle "scorching, passionate, fearless".
Meanwhile, after the birth of her first child, Demi-Soloist Reika Sato has retired from the stage, but her involvement with West Australian Ballet will not end as she takes on the newly created role of Assistant Ballet Mistress to provide support to the Company's highly regarded Artistic department.
Sato, who is married to current West Australian Ballet Demi-Soloist Matthew Edwardson, has danced many significant roles since arriving in Perth in 2014 including; as Cinderella, Jordan Baker in The Great Gatsby and Effy in La Sylphide.
Reflecting on the promotions, Aurélien Scannella is proud of the hard working world-class talent at our State Ballet Company.
"With talent like Dayana, Polly, Alexa and Reika, WA should be proud of their strong and diverse Ballet Company", said Scannella, "Not only are our dancers elite athletes, but also brilliant actors and performers, I'd like all of WA bear witness to this unique mix of talent we have".
Source: Media Release
---