RECAP | Real Housewives of Sydney – and we're off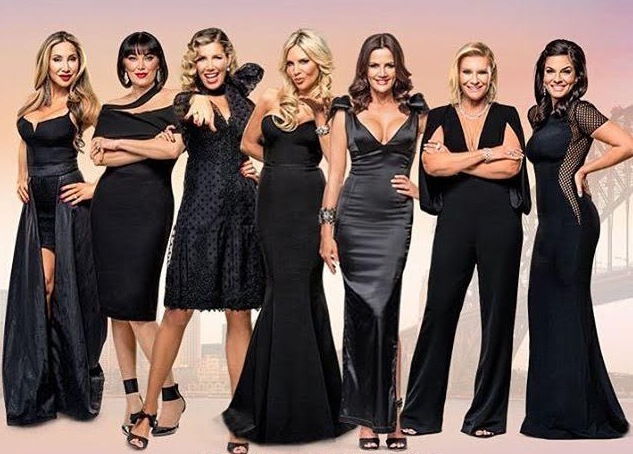 After years of following the adventures of the Real Housewives of Melbourne, a new version of the trashy franchise premieres with the Real Housewives of Sydney.
We're ready for some new personalities who live in a world of Botox, brunches, Bolly, and babble. Seven sexy sirens who salivate over scuttlebutt and face the big burdens in life head on – like which handbag to take.
Warning: Spoilers
We kick things off with Krissy who is meeting up with Victoria. Krissy takes Victoria out of her comfort zone of Bondi for a drink in Coogee. It's 6km away, less than Cottesloe to City Beach.
The pair drink Skinny Bitches (Vodka, Lime and Diet Soda to mortals) and catch up on a little harmless gossip.
KRISSY

Krissy's worked in real estate, and modeling and films and… stuff. She lives in Double Bay which she describes as ridiculously expensive. In her mansion, which she shares with a couple of kids, she has a chef, handyman and just a couple of Rosario's Joanna's housekeepers.  
VICTORIA

Victoria, we're reminded regularly, is an older lady. She's been married and divorced twice and loves living in Bondi. Her apartment is filled with Brett Whitley drawings, mostly of nude women.
She also has so many handbags that they cover her entire bed, she must sleep somewhere else. Maybe it's not her bed, maybe the bags have a room of their own.
Victoria made her fortune investing in a silicone company called Wrinkles Schminkles, which has made her richy schmitchy. Later on in the episode she casually hangs out at home with some of the company's product placed subtly on her face.
NICOLE
The duo meet up with former Miss Australia, Nicole. She's just moved back from London with her kids and moved into an apartment in Bellevue Hill.
While she likes to go on holiday every six weeks, and while she always flies first class; she's made sure her kids know how the other half live. To keep their feet on the ground she often takes them back to cattle-class to see how cramped regular people travel.
Nicole's throwing a party to announce her return to Sydney society, she invites Victoria and Krissy along. She says the other guests will include AthenaX and Lisa Oldfield.
Victoria notes that she's heard that the very spiritual AthenaX is "Jatz Crackers" and comments on the rumours that Lisa's husband David once allegedly had a sexual relationship with former political colleague Pauline Hanson.
Nicole, taking on the role of Lydiot this season, promptly conveys these comments to everyone she meets, and we're off to the races.
ATHENAX

Next up, it's AthenaX Levendi. She's married to a fabulous jeweler husband Panos and likes to spend her time being spiritual.
She meditates daily, which she describes as a "phone line to God" and likes to paint abstract shapes which her family see as a Rorschach test. Athena describes herself as 80% vegan.
MATTY
Matty, runs a medi-spa where she offers all sorts of injections and fillers to her clients. Friend Lisa Oldfield drops by to have one of her many beauty treatments and they chat about Nicole's upcoming party.
Matty describes herself as very beautiful, very wealthy and very successful. She may have a accent, or maybe her lips are just so overblown she can't speak clearly.
LISA
Lisa shares that she and her husband, former politician David Oldfield, have made a tree change and moved to the northern beaches of Sydney. (Victoria is never going to drop by for coffee).
Lisa loves to shoot guns to relax and creatively has named her pet chickens Whitney Houst-hen and Victoria Peckham. She also has a pet python called Shelley, who we think really should have been named Monty to keep with the theme.
MELISSA
The final lady who lunches is actress and pop star Melissa Tkautz. Who is already our favourite because she chats to us regularly and we love a '90s pop classic.
Melissa lives in a house, but they don't mention which suburbs its in. Which until we're proven otherwise we're just going to assume is somewhere unmentionable in Sydney's western suburbs.
The former E-Street star says she's never really liked her breakout hit Read My Lips – but we're willing to take bets that it's going to be used in a cross-promotion with Matty's salon before the end of the series.
THE DRAMA
We catch up with AthenaX as she gets ready for Nicole's party, she decides to dress as a Logie, then at the last minute adds a cape made of fishing net. She explains to husband Panos that it's very avant garde.
Nicole is already for her debutante drinks gala and is waiting for all her soon to be frenimies to arrive. She's wearing a tiara, cause – who doesn't?
AthenaX drives into the party with Lisa, Matty and Matty's lips.  The shindig is being held in The Rocks, showcasing the Opera House and the Sydney Harbour bridge, just so we remember where the show is set.
Athena mentions that a "mutual friend" told her that in her childhood Victoria was quite fat. Delivering the essential ammunition for a good argument later in the show.
Victoria makes it to The Rocks with Krissy, a chauffeur drove her the epic 10km journey from Bondi. Melissa is last to arrive having caught the train from Cabramatta.
Over drinks Lisa confronts Victoria about her speculation about her husband's alleged and ancient sex life. AthenaX confronts Victoria over why she described her as "Jatz Crackers", Melissa says AthenaX is in "spiritual la-la loopy land". Krissy is called Chewbacca for interrupting all the time. Using the Force, AthenaX gleans that Victoria has a "low vibration", and Victoria throws AthenaX's hideous fishing net cape into Circular Quay. Krissy, unfamiliar with Star Wars, wonders if being called Chewbacca is a bad thing.
Quote of the episode most certainly goes to the Gold Logie, AthenaX, who so elegantly says "she called me crazy, you fucking idiot." This is episode one, people.
QUESTIONS
Is it OK to throw a friend's hideous fashion choice over the side? Will this lead to a snowfall of avant-garde fashion pieces in the rubbish bin area behind Connections terrace?
Where does Melissa live? Paramatta? Villawood? Enmore?
Where does Victoria sleep at night?
Do Lisa's other chicken's have amusing names? Why does she hate her children?
How did Nicole make it through an episode without going on a vacation? Also, why is she always shouting?
Is it okay to have liked AthenaX's cape? Leigh is asking for a friend…
CHALLENGE
Describe yourself as '80% something' before next Sunday. Dress as an award. Find that shawl before it strangles a dolphin. Rate all your friends on the vibrations at which they resonate.