Retro Cassette Friday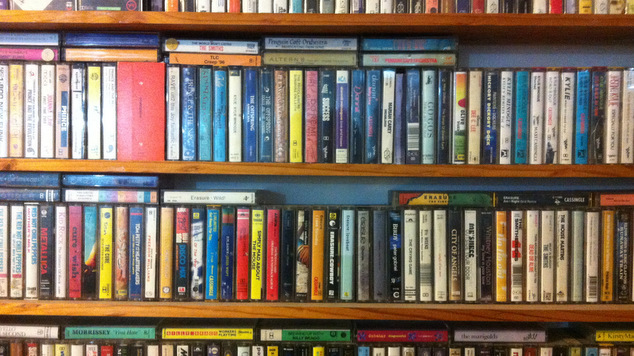 Each Friday in the OUTinPerth office we delve into the musical past and pull out three cassettes from bands we've most likely totally forgotten about.
This week's lucky dip selection features an odd one sided tape, some acid house and an amazing lady who's coming to town soon.
Was Not Was, Self Titled
Island, 1981
This is one of the more odd cassette's created, Was Not Was put their debut album on side one of the tape but left side two free for people to do therr own recording on. The album kicks off with the very cool song 'Out Come the Freaks' before slipping into the laid back 'Where Did Your Heart Go' – a song that was cover by George Michael's band Wham! on their final album. The fourth 'Carry Me Back to Old Morocco' is a bit of a groover too.
Since we picked up our copy of this tape in a second hand shop we were excited to find out if anyone had recorded anything on side two. Sadly they had recorded a rock album of Michael Bolton from the mid 80's.
Baby Ford, Ooh The World Of…

Rhythm King, 1989
In 1988 the UK';s acid house scene exploded, influenced greatly by Chicago house music there was a sudden burst of UK artists like Bomb the Bass, S-Express and this guy Baby Ford. This was his second album released at the height of the music's popularity. As the first track 'A Place of Dreams of Magic' comes on it strikes me that the music of 1989 sounds quite fresh in 2013 – maybe things have come full circle? There's an impressive version of the Marc Bolan glam rock track 'Children of the Revolution' and in the background the chants of "Chikki Chikki Ahh Ahh begin as the track slides into the melded songs of 'Milky Trees' and 'Chikki Chikki Ahh Ahh'. Side one closes with an epic track called 'Wigan'. Over on the B-side there is the massive club hit 'Beach Bump'.
Christine Anu, Stylin' Up
Mushroom, 1995
Christine Anu hit a magical combination when she combined pop music, dance beats and a serious nod to indigenous culture with this her debut album. Opening track 'Wanem Time' showcased the mix of breakbeats, traditional sounds and killer pop melodies. The second trap is the FM radio favourite 'Island Home', like the opener it's written by Neil Murray who went on to record his own version. The albums packed with hits 'San E Wireless', 'Monkey and the Turtle' and Party'. Our version contains five bonus live tracks including a live take on Anu's first single, the Paul Kelly song 'Last Train'. Anu will be in town soon performing in the musical 'South Pacific'.
Graeme Watson