Review | The Baden Street Singers: Whose Note is it Anyway?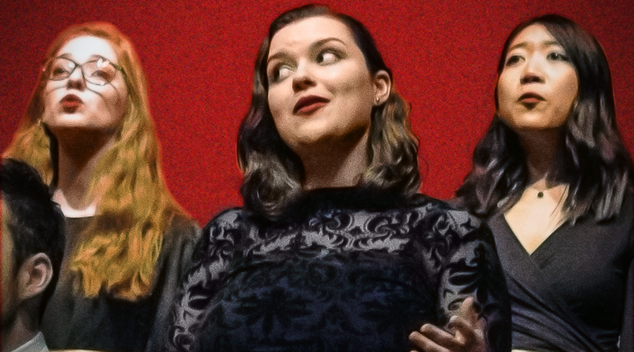 The Baden Street Singers: Whose Note Is It Anyway? | The Edith | til 17th Feb | ★ ★ ★ 
Kookamunga, Kafkaesque, Onomatopoeia and Kerfuffle – now try and make a song out of that!
Well that's exactly the kind of random nonsense The Baden Street Singers excel at turning into hilarious musical numbers that could give a couple of today's pop songs a run for their money. There is no doubt that this national acapella group are a clever choir setting the tone from their opening medley of well-known favourites with a variety of non-lexical vocables like beat boxing thrown in for good measure alongside choral and contemporary harmony sounds.
And who is the conductor of this eclectic ensemble? You are!
Whose Note is It Anyway? is a game show where audience members get to push big red buttons, lights flash and wheels spin with a satisfying click click noise that determine the fate of these songbirds.
It seems fitting that the games should commence with George Michael's Faith and as our first audience member raised her little hand to step up to the plate, then twirled around to her mum for reassurance, we all knew the red buttons had beckoned her!
'Tempo' is where you decide how fast or slow you want the choir to go! Their rendition of Faith became a courageous challenge in team tempo timing as they moved in instant unison from superman-fast to snail-slow. The audience at this show were going to put The Baden Street Singers through their paces!
It became clear that the majority of the crowd were connected in one way or another to the performers but this simply added to the warmth and intimacy in the room. Inside knowledge played a part in audience suggestions for the repertoire that followed like Queen's Bohemian Rhapsody because, "my cousin is in the choir and it's a hard song". Family support ever a double edged sword!
Nevertheless, this fan favourite hit the mark with the choir's ironic take being quirky and upbeat in Barbershop Harmony style. Highlights included a beautiful rendition of Adele's Skyfall and some fabulously improvised lyrics to Violent Femmes' Blister in the Sun.
Occasionally the group played it a little safe and I would have loved to see them completely let loose but they definitely stepped out of the box in the final game round with completely improvised songs made up of 10 random words that required non-linear musical genius.
This musical genre smorgasbord featured unique titles including the jazzy number Noice Muffin, a pop rock yarn of Football Fungus and a finale that showed the audience were not going to let them leave the stage easily with a combination of words that could only lead to a tale of woe in Potato Kerfuffle.
If you think this all sounds crazy… it is! But the best kind of crazy with the best kind of singers! Long live acapella!
The Baden Street Singers will be at Yagan Square's Edith Speigeltent until Sunday 17th February. Tickets and more information available from fringeworld.com.au
Evelyne Tymms