Review 'This Is Boylesque'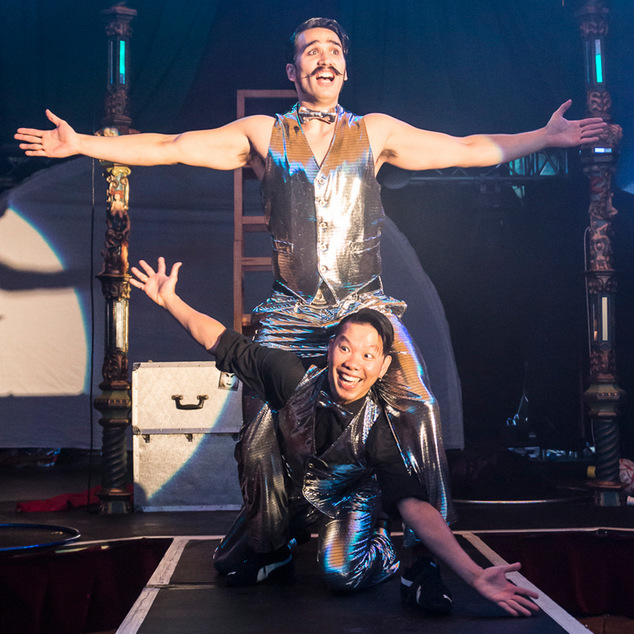 An eager crowd had swelled in to the big top on Friday night, ready to spend the last of their Valentines Days' watching the opening performance of 'This. Is.Boylesque'. Situated in the centre of Fringe Worlds 'Pleasure Garden', the show is the brain child of 2012 and 2013 Mr Boylesque winners Johnny Domino and Jon Madd, and everything spun around their open jovial nature. As MC's, it was their quick witted banter and easy-going awkwardness that truly defined the show. Well that, and all the nudity.
The audience started hot and dripping with anticipation. The women were making lewd over the top commentary, the men were nervously ribbing each other, and those of us who fall somewhere in between were just waiting for Madd to take his pants off. Sadly we would have to wait for that spectacle, but opening act Peter was quick to meet our expectations. The supposed Dutchman dacked himself within moments of stepping onto stage, and with the proverbial 'cat out of the bag', the night just got better.
The second act, a juggler named Scooby, brought a level of street-style professionalism to the show, working the crowd with his affable character sensibilities and quick wit. After some lighthearted opening jokes. Scooby stripped off his shirt and started getting serious; bringing two audience members up on stage to perform his most dangerous stunt of juggling machetes while walking over people. Despite a few dropped batons (no one was hurt). Scooby never dropped a joke and was definitely a stand out of the show.
Ramping up the awkward comedy styling of the night was Christopher the magician, complete with quirky British accent and lightning hands. After a few warm up sleight of hand moves, Christopher performed his piece de resistance in trying to guess an audience members card. After several 'wrong' guesses resulted in him being down to his briefs, the magician revealed both the correct card and his cute British butt in one flourish.
Up next was Mr Hamlen. Easily the most muscular performer, Mr Hamlen made the most of his great body by running through his set almost completely naked the entire time. A cotton glove his single piece of attire, covering his package and giving the audience a little (or large)something to dream about. His set was also the most acrobatic, featuring a strength and balancing routine atop four wooden saw horses stacked atop each other, and finishing up with an amazing straddle press handstand to show off his glorious gluteus.
Acts five and six stepped up the showmanship and we got our first glimpse of true boylesque. Never one to stray away from a bit of cheek, Johnny Domino stepped onto stage in full welding gear complete with blowtorch, before stripped down to a shiny black leotard and dancing around the stage in a modern male rendition of 'Flashdance'. After bending a few iron bars over his luscious derriere, Domino stripped out his leotard (and an extra thong) before strutting out with a lit sparkler in his crotch.
Jon Madd finished off the night in true award winning boylesque style. Madd prowled onto the stage to a dark and moody industrial soundtrack, all poise and posture as he slowly slipped out of his pin stripe suit. Madds performance was fierce and seductive, like a blank panther stalking its prey; a deep low growl rumbling in the jungle. And in the end Madd pounced upon himself, tearing his last few clothes off before threading a needle through his septum.
'This.Is.Boylesque' may not have the flair of a larger production, it definitely captivated the audience from start to finish and created a fun, open and larrikin atmosphere in a typically sex-orientated genre. It's not perfection, but it's still damn fun.
'This. Is. Boylesque' is on this Friday and Saturday in the Pleasure Garden for 'Fringe World'.
Bailey Lionizer