Review: Briefs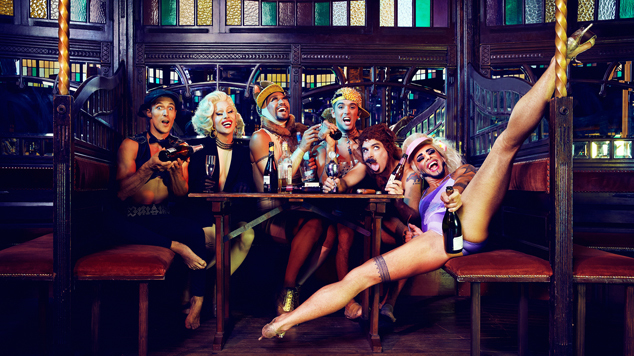 Briefs | The West Australian Speigeltent | Until Sat 14 Feb |  ★ ★ ★ ★ ★ 
When you've heard lots about a show, it's hard not to get to a performance and have lots of pre-conceived ideas, whether they are good or bad. I had never heard anything put positive comments about Briefs, and the show blew everything I ever expected out of the water.
Variety shows, in whatever format, usually come with an understanding that they will tick some entertainment boxes. There wasn't a moment that Briefs stopped doing that.
Briefs is known as one of the best shows of the Fringe line up, which is probably why it sells out each and every year.
Coming all the way from Broome, Louis Biggs opened as the first performance after the beautiful feather show. This cute strip tease with the addition of a yo-yo and Rubix cube set the scene for comedy, sex and high quality performance.
There is something wonderful about watching someone jump, dive, lift and twirl on stage. From the dogs and their owners, to the majestic aerial closing act, the choreography was mind blowing. Parts were hypnotic and the balance of beauty, comedy and skill was perfectly orchestrated.
Hailing from Ipswich on the East Coast, Briefs creator Shivannah, stole the show. Funny, engaging, versatile, he was the star of the show. Not only were his jokes hilarious, but he pulled the show together. From Missy Elliot and her dog, to opening and closing the show, and the touching comments about maintaining a community, he nailed everything he did. His magic show was hilarious (and actually made me "oohh…" at one point). His understanding of comedy and his audience was clever and there wasn't a moment that he wasn't on point.
The thing I love about these kind of shows is how funny they are. The crowd laughs constantly and often, so do the cast. This time was no exception with moments where the cast struggled to maintain composure. The demonstration that they are having as much fun as we are blows me away. The Butlers ability to maintain such stark composure throughout the show was so complimented when he lost that ability during the raffle winner section. It gives a humanity to the performance which I find quite touching.
Briefs is one of those shows that will talk about for weeks, months and will fill you with excitement if it comes back to Fringe for a sixth year next year. For those who weren't lucky enough to get tickets. Check out 'Club Briefs', their spin off show.
Alice Mod