Review | 'Bring It On – The Musical' is filled with cheers and backflips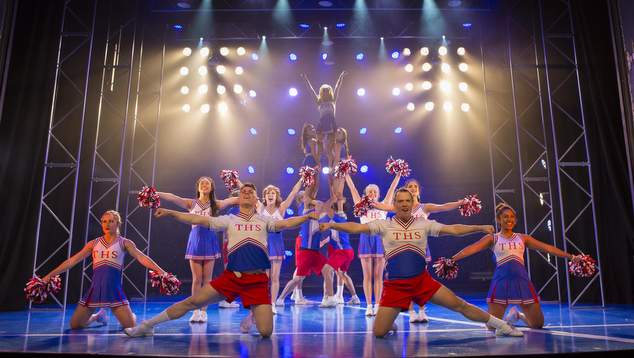 Bring It On: The Musical | His Majesty's Theatre | til Aug 18 | ★ ★ ★ ★ 
A musical adaptation of one of the most iconic feature films about cheerleading. The show has an esteemed team of professionals that have banded together to create Bring It On The Musical. Jeff Whitty, Lin-Manuel Miranda, Tom Kitt and Amanda Green are the well-known creatives behind the original and hilarious musical.
The plot of Bring It On is based around Campbell. A teenager who seemingly has it all: popularity, a boyfriend and has just been voted as the new head cheerleader. Suddenly she's relocated to a new school with no cheer squad and not a lot of friends. Desperate to regain what she deemed as "her entire life" Campbell lies and manipulates the dance crew to form a cheerleading squad and compete at the Nationals to be the best.
The musical is full of one liners and witty catchy songs. The mix of formidable characters is everything you would expect for a stereotypical teen story. Bring It On addresses many themes but the main ones being race, identity and social hierarchy. Personally, I think it's refreshing to see these themes represented in a light and comedic context.
The similarities between the film and musical are just the right amount of new and nostalgia. It's an original story with small excerpts from the film, which makes it enjoyable for those, that have seen the movie and still entertaining for the ones that haven't.
The choreography of this show was nothing but exceptional, it didn't matter how many people were on-stage, be it three or twenty. Everyone knew their moves and lyrics; it was really great to see the cast in an almost symbiotic relationship.
In true cheerleading form we saw basket-tosses, Buckets and many, many flips. I found myself in awe of seeing the cast perform all these stunts on-stage but there's a huge commendation for all the rehearsal that has to be put into a show with such moves.
If anyone misses a step or forgets a cue there could be serious injuries but seeing it pulled off with such high energy is captivating and entertaining.
Overall the actual story and scripting was a little cheesy but done in the best and funniest way possible. I would recommend seeing this musical if you feel like having a laugh and seeing some amazing choreography at the same time.
Bring It On: The Musical can be seen at His Majesty's Theatre in Perth until August 18.
Cassandra Archer
---