Review | CAMP represents some of Perth's best drag talent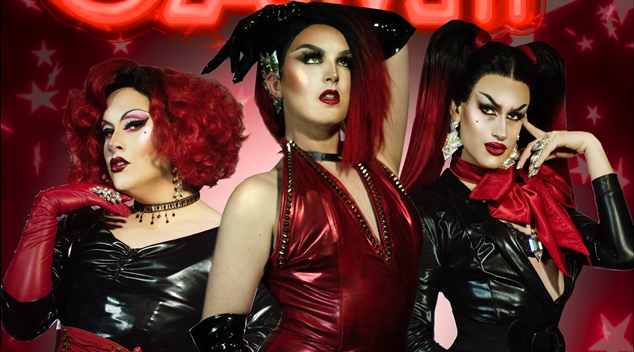 CAMP | Connections Nightclub | 19th & 28th Jan | ★ ★ ★ ★  
It only makes sense that the 2019 Fringe season at Connections should open with CAMP, a drag variety show from Perth drag stars Perri Oxide, Donna Kebab and Sassie Cassie.
The great dread of the Fringe-going public are the words "I need a volunteer", but Connections saw a large and diverse crowd willingly fill the seats from the front row back. The crowd was eager, breaking out in to wide smiles and applause as the queens took to the stage in red, black, and a couple of troublesome heels.
While not a deep exploration of 'camp' as a style or movement, the show entertained with an array of impeccable lip syncs, spoken word and prop comedy. CAMP excelled when it dodged nightclub drag show conventions and leaned in to the esoteric – a rant from an embittered Joan Cusack and a trio of duelling pop divas were inspired highlights.
Donna Kebab suggested early in the show that we might be be shocked to learn drag queens have "real talent". Should you have any doubt, CAMP is a beautiful showcase of the varied talents of the trio, who work as dancers, singers, musicians and comedians throughout. The talent is real, and the audience lapped it up.
The queens weren't too handsy with the audience – a great relief to some and a great disappointment to others, I'm sure. But that's not to say it's entirely comfortable viewing – one very impressive moment will have you wondering, "Has crochet ever been so erotic?" You'll know it when you see it.
CAMP opened and closed strong with ensemble numbers that let the cast stretch their performance chops, but sagged at the midpoint with a musical improv bit that took a while to warm up. I put that down to opening night jitters, as it has great potential to be the best part of what is otherwise an excellent show. Although presented with a few opening-night technical hiccups, the cast rolled with the punches and in true cabaret style brought everyone in on the joke. Cinch up some of these issues and the show would be taut, top to bottom.
Oxide, Kebab and Cassie represent some of Perth's best drag talent, and this home grown show deserves your eyeballs. So pack a swag, swish it over your shoulder and go CAMP.
CAMP is at Connections Nightclub on January 19 & 28. Tickets and more information available from fringeworld.com.au
Martin E Wills