Review | DnD Live Presents Alice in Wonderland is poetry in motion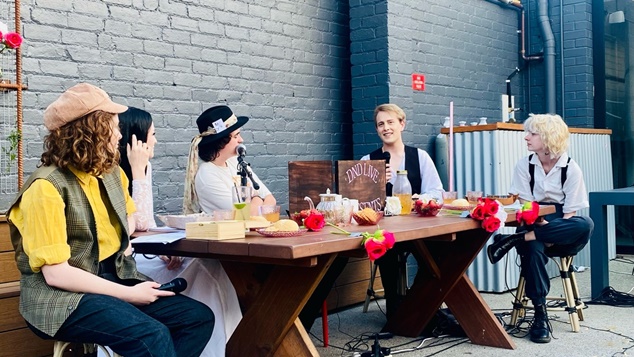 DnD Live Presents Alice in Wonderland | Golden West Brewing Company | Until 29th Jan | ★ ★ ★ ¾ 
The Golden West Brewing Company in Subiaco is the venue for this Fringe World offering. Having not been to this venue before we are very thankful to Fringe for offering the opportunity to discover it. What a find!
The event is in the courtyard, and relaxed, colourful seating on a balmy night after a hot day is the vibe. The friendliness and efficiency of the staff, the delicious drinks to imbibe and the phenomenal food, which smacked us in the face with its freshness only added to the ambiance.
I'm not a DnD aficionado, not even close. My knowledge of DnD comes purely from movies and television, such as Stranger Things, as well as from my fifteen-year-old child. Despite my fifteen-year old's passion and best efforts my understanding is still limited. I don't really understand how it works, I know there are dice involved and I know those who love it, do so passionately.
It was for this reason I had chosen to see DnD Live Presents Alice in Wonderland. So, I could take my Kid along and pick their brains afterwards. However, since fifteen is a bitch of an age my Kid simply wasn't feeling it. That left my equally DnD clueless partner coming along for the ride.
And what a trip it was! One of the great things about this event is that prior Dungeons and Dragons knowledge is not necessary. Another bonus is that it's a very family friendly event and there were around five or six under 18's in attendance with their responsible adults. The age range in the large audience varied from the young to the young at heart. Judging by the laughter and happy faces surrounding us I'd say everyone enjoyed themselves very much.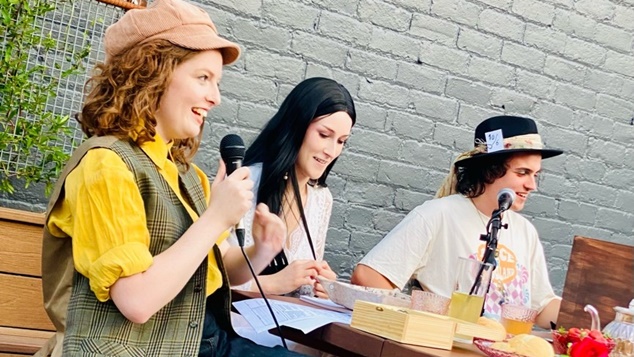 The cast/players were Teaghan Lowey, Dana Brennan, George Burton, Kael Butler and Emmett Aster. Mad props also to the support team on sound and the door. This was a group of obviously talented young people who bounced off each other in most entertaining fashion.
In one particularly perfect improv moment George, in character as Absolom, said "It's a new dawn…" followed swiftly by Emmett as Aurora, with "It's a new day!" to which Kael, as Nathaniel, responded "And are you feeling good about that?". All of which was met with appreciative laughter from the crowd. Unrehearsed and unscripted, the flow of energy and dialogue was poetry in motion.
There is no overstating how worthwhile an experience this is! It felt like being at a private and exclusive party, with all the coolest, most beautiful, young people and being privy to the banter and play, in serene surrounds as day turned to night. The participant's own enjoyment of the event was palpable and incredibly infectious!
DnD Live presents Alice in Wonderland runs up to and including Sunday. One of the most exciting things is that you could go along every evening and watch a completely different show.
Again, this is a family friendly event and venue – definitely a bonus! Fringe is for everyone! And last but by no means least for someone of my vintage, one of the players is the spitting image of a young James Spader, which may be worth the trip for you all on its own.
Dnd presents Alice in Wonderland is playing in the Perth Cultural Centre until 29th January. Tickets and more info available from fringeworld.com.au
Kate Salinger is a proud PFLAG+ Perth Mum, with a once upon a time background in dramatic arts. Kate enjoys writing and photography and active resistance of oppression. 
---

You can support our work by subscribing to our Patreon
or contributing to our GoFundMe campaign.