Review | 'George Michael is Greek' is a show about culture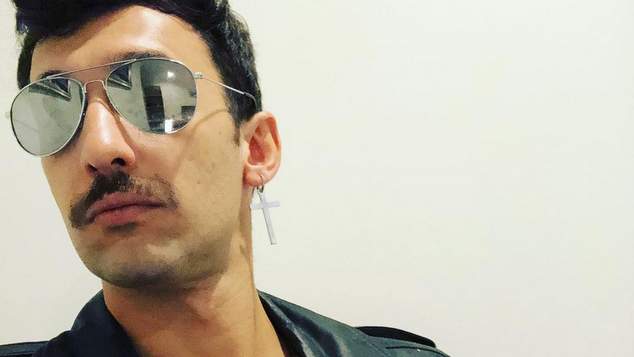 George Michael is Greek | The Cheeky Sparrow | Until 24th February | ★ ★ ★  
George Dimarelos is a total douchebag.
For the record, those are his words, not mine. Well, not really his words, but words that several strangers have used to describe him.
To understand what I mean, well, you'll have to see the show, but it's a little exercise called 'finding your essence'. What kind of vibe do you give off without saying a word?
I played it with my mate after seeing the show, and it was probably lucky that we are already mates because she wrote down some adjectives that frankly, hurt my feelings. I hope you are reading this Kimba and you owe me a beer.
George Michael is Greek is a show about culture.
To be fair, it's a hard task to talk about culture in a room full of Aussies. We've got that classic culture cringe. We don't like to be told what we are all about, we are too diverse to be pigeonholed by nationality, and the words "Australian values" makes most people's stomach turn (unless you vote one nation or whatever). Because honestly, what the fuck are Australian values? Do you know who stole the words 'Australian values'? Politicians, racists, and just general fuckwits. They highjacked the phrase and now we don't want to use it anymore, out of respect for those it excludes.
But culture does define us. Sometimes we accept it, sometimes we reject it, but we are constantly inventing it.
Maybe because we need a way to identify ourselves, to create community, and we live amongst others who are doing exactly the same.
George Michael is Greek is a well researched and thoughtful show. It chases a few different tangents and you have to keep up with the energy because the show lacks continuity (or so it seems – but I'll get to that later).
Since this is a review, you may want to know if this is a show you might want to see.
So, consider this scenario:
You're at the pub with mates. It's well past midnight, wine is flowing freely and the small talk has morphed into politics, religion (all the good stuff). Then at some point, you're all shouting over the top of each other, passionately arguing about whose ancestors invented what, and whose ancestors stole it from them and claimed it as their own.
Lines are drawn, facts are debated, and even the least patriotic person at the table all of a sudden has a very obvious dog in this race. But at the end of the night, you grab a greasy kebab together and you share an uber home.
If this is an all too familiar scene for you, then you should check out this show. If you've ever had a homo-erotic experience with your footy mates that left you confused and bewildered, or you've never quite understood why your Macedonian mate goes berserk when someone calls him Greek, then come and get yourself educated by George.
When my mum was at school she was teased for being a 'wog'. She didn't like it when her kids used that word to identify themselves, and she was disconnected from her heritage through no fault of her own, but because of shitty social constructs of the time. For some people, cultural or social identity might be obvious and readily accessible to them, but for a lot of Australians (perhaps the majority of us), it's not. So we're making it up as we go along.
The continuity aspect of George Michael is Greek, comes from the fact that it's incredibly fitting that 'finding our essence' is a comedy show.
How could it not be?
George Michael is Greek is at The Cheeky Sparrow until 24th February. Get tickets at Fringe World.
Katie Rose
---
Support OUTinPerth
Thanks for reading OUTinPerth. We can only create LGBTIQA+ focused media with your help.
If you can help support our work, please consider assisting us through a one-off contribution to our GoFundMe campaign, or a regular contribution through our Patreon appeal.