Review | Just Friends lights up Perth Queer Film Festival's opening night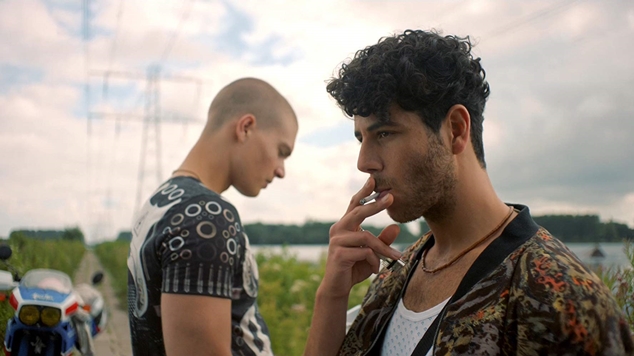 Just Friends | The Backlot Perth | Sept 12 | ★ ★ ★ ★ ½ 
WA's third Perth International Queer Film Festival opened with a bang last night, with a jam-packed screening of four short films and an excellent full-length feature from the Netherlands – Just Friends.
Of the four shorts that prefaced the film, Australia's own Papercut from Damian Overton was a stand-out in the bunch.
Shot entirely in the confines of a car, two closeted actors get into an argument on their way to an awards ceremony. One is urging the other to keep their relationship on the down-low, while the other is agitating to scream their love from the rooftops.
The sharp (and often-times funny) dialogue underscores a much wider issue in the entertainment industry – an impressive feat for a 20-minute production.
Just Friends (or Gewoon Vreinden) was the main event of the evening, and the film made for a beautiful introduction to this year's program from Festival Director Mark Reid.
The story opens on Joris (Josha Stradowski), a young man who has recently lost his father. He, his sister and his plastic-surgery fanatic mother argue over who will take the urn, with responsibility falling on Joris to deal with his father's remains.
Meanwhile, Yad (Majd Mardo) returns to the sleepy town of Almere. Having blown off his medical studies to live it up in Amsterdam, the young man returns home to his family after a particularly intense evening on the town.
Yad returns to his life as a surfing teacher and takes a job cleaning for Ans (Jenny Arean), an elderly woman in town who becomes close with the charming scamp. The pair strike up a friendship, despite Yad's mother's criticism that housework is beneath him.
Upon visiting his grandmother, Joris meets her handsome new housekeeper and the pair's chemistry is overwhelming and volatile from the moment they meet.
Though Yad and Joris are very much central to the narrative, it's the exploration of the boy's relationships with their mothers (and grandmother) that take this film from a simple rom-com to an excellent piece of queer cinema.
Joris and his mother are distant, neither understanding one another in their disparate lives. Yad and his refugee mother struggle to see eye-to-eye on his ambitions. Or rather, lack of, in her view.
The uniting force between the concurrent plot lines is the incredibly charming Ans, who plays the grandmother we all wish we had. Funny, charming, compassionate and the voice of reason, Ans plays a pivotal role in setting Yad and Joris' first date, and is pure joy to watch on screen.
The film strikes a harmonious balance with (intentionally) cheesy gags, and beautifully sincere moments of romance and reconciliation.
Love, family and culture are explored through a queer lens that not only makes for a wonderfully entertaining piece of cinema, but a much needed panacea to the expectation that LGBTI+ films can only explore discrimination, violence or loss.
Catch more of the Perth International Queer Film Festival at The Backlot Perth until September 18. Check out the full program and book tickets at waaids.com
Leigh Andrew Hill