Review | 'Karen from Finance is Doing Time' is drag at its hilarious best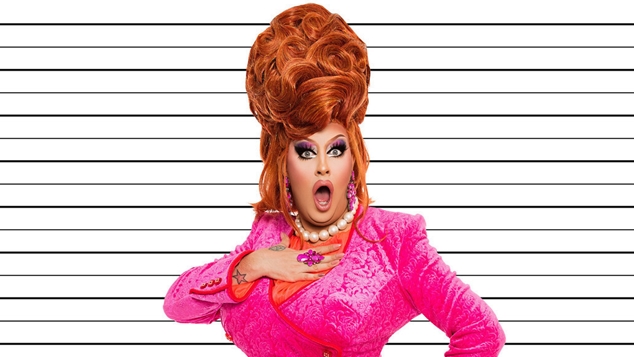 Karen From Finance is Doing Time | The Hat Trick | til Feb 2 | ★ ★ ★ ★ ★ 
Drag has come a long way!
From the polish and precision of Melbourne and Sydney's Les Girls in the halcyon night club days of the 70s, to today where shows like RuPaul's Drag Race can be seen in the comfort of your own living room, the world of drag has witnessed a huge transformation.
However, in my opinion the only way to watch and enjoy these talented professionals is live on stage, where the true magic happens.
Karen from Finance creator aka Richard Chadwick, (34 years young) already has an impressive resume, website and acclaimed body of work from YouTube clips to international stages and festivals as well as a runner-up on the first season of RuPaul's Drag Race Down Under. Karen is to be admired and lauded, but the accolades for last night's performance pushes that genius brush stroke up another notch.
Her simple set piece, a neon-light heralding the show's title Doing Time and main theme song was just a sideline to the theatrics that ensued over the 50+minute set. Dialogue interspersed with singing live is no easy feat and for me the highlight piece was the astonishing lip sync perfection together with facial expressions of Karen's interpretation of a scene from Legally Blonde. Outstanding!
Clearly, singing lessons under the baton of Belinda Read has paid handsome dividends as the depth and range in vocals has far exceeded previous shows.
This sassy statuesque 'momma' rocked the house and stole their hearts, as gag after gag found its way to the audience's funny bones. Opening number from Chicago with a Karenesque twist When You're Good To Mama, Queen's Break Free and George Michael's Freedom, were kick-arse classics and delivered in perfect pitch as well as other numbers. No Adele ballads here, just up-tempo numbers that many in the audience sang along to.
I need to acknowledge two other professionals at last night's event, Dean Misdale, who delivered a crowd-pleasing belter of Minogue's Celebration, and another nod of thanks to the sound tech, Michael, who conquered the obstacles of doing live theatre improv in a plastic tent, which had him working overtime to balance and adjust the sound quality. No solid walls to bounce off, unlike a studio. Well done to you both.
But the star of the night clearly shines brightly for our Zarina (she's higher than a Kween) Karen from Finance. Tickets are selling fast for her future shows at Fringe World, so don't miss out, this show is a true classic and sure to be an award winner!
Karen from Finance is Doing Time runs until Feb 2. Tickets available from fringeworld.com.au
Terry Larder is the founder of Club West (1989-2015) and in this role over those years was the director/producer/compere/drag performer. He is keen to foster goodwill and nurture new and emerging artists both on-stage and off.  He has been a writer for OIP since 2007, and has reviewed numerous shows as well as interviewed and written about Debbie Reynolds, Anthony Callea, James Morrison, Elaine Paige to name but a few. Terry also writes history articles for OIP and university publications. 
---

You can support our work by subscribing to our Patreon
or contributing to our GoFundMe campaign.