Review | LIMBO swings back into Fringe World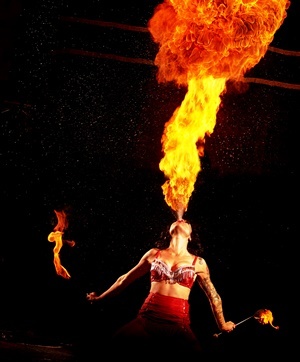 LIMBO | West Australian Spiegeltent
Until Feb 19 | ★ ★ ★ ★ 
LIMBO returns once again to Fringe World for 2017, bringing with it a mix of circus and cabaret set to a theatrical live score. Under Scott Maidment's direction, the action takes place somewhere between heaven and hell, where the fearless performers are made to earn their keep under the control of shamanic ringmaster Elyas Khan and his multi-instrumentalist ensemble.
The show brings just enough of the drama and theatrics to set the mood, before delivering on its promise of jaw-dropping stunts. Audible gasps and groans could be heard as the audience wrapped their minds around seemingly impossible acrobatics, contortion and hands-free sword swallowing, and while they might have felt a little queasy the applause indicated that they were getting what they came for. Most encouraging was the cast's genuine exuberance and joy in performance.
Light-hearted moments were sold with candid glee, and the band's hooting and hollering kept the crowd on the edge of their seats. For several sections, I found myself taking my eyes off the action at centre stage to appreciate the energy put into the music; the drummer leaping from his post to slap out a bass solo, the horn player switching to march around with his giant sousaphone, the dreamy sounds of a harp-like instrument I had never seen played before, and of course the band-leader's mouth organ, often drenched in reverb to induce nightmarish soundscapes.
With plenty of dancing, rhythm and sexiness to boot, LIMBO delivers a well-rounded show that is sure to please all comers, with all cast-members excelling in their roles.
Samuel Joynt
LIMBO will be in the West Australian Spiegeltent until Sunday February 19th (except Mondays). Tickets and more information available from fringeworld.com.au