Review: Mamma Mia – here we go again, we know the start, we know the end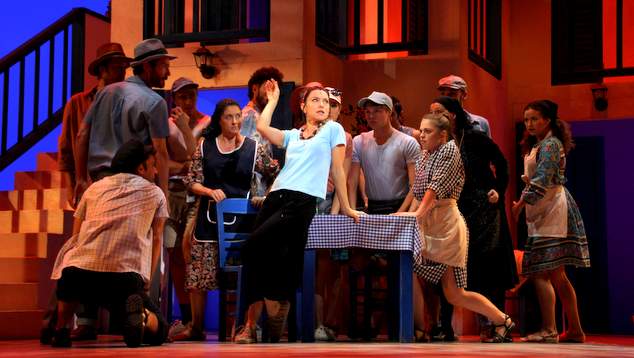 Mamma Mia | Crown Theatre | Until July 1 | ★ ★ ★ ★  
The fun, energetic musical Mamma Mia is back with a new cast, new staging, fresh choreography and all those ABBA songs that we love forever.
I've seen this musical on Broadway, I've saw it the last time it was in Perth, and would happily head down to a matinee to see it again, and then watch it again the same evening. Mamma Mia is just a mountain of fun. If you loved it before, you'll have a blast again.
If you've never seen this global smash, here's the deal – Mamma Mia cleverly tells the story of 20-year old Sophie who had grown up with her free spirited Mum Donna on a idyllic Greek island. Sophie doesn't know who her Dad is, so she steals her mother's diary and reads the entries from 1979.
Back in the late 70's Donna was the lead singer in a trio alongside sidekicks Tanya and Rosie, but she settled down in Greece and built a tavern.
Sophie discovers there are three potential candidates from her mother's wild youth, Sophie invites all three to attend her upcoming wedding to boyfriend Sky. She decides not to tell Donna of her plan, leaving her mother bewildered when her three former loves all simultaneously appear after two decades.
The story cleverly winds its way through 22 of ABBA's hit songs, with few changes to songs original lyrics, and it's packed with comedy and amazing dance routines – all delivered by an energetic cast who appear to be "having the time of their lives".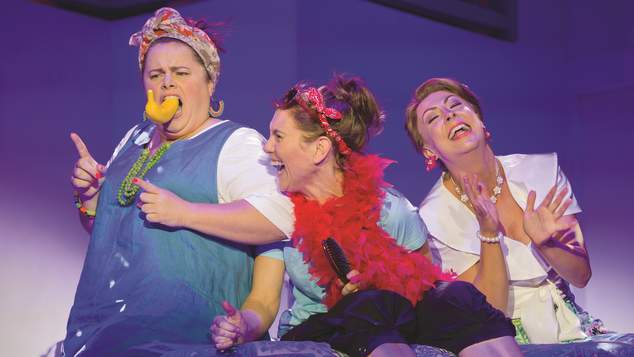 Natalie O'Donnell plays the role of Donna. It's a generational change since Mamma Mia was first performed in Australia 2001 – back then O'Donnell played the role of daughter Sophie. She nails the role of the feisty and independent single mother.
Jayde Westaby is brilliant as Donna's well healed best friend Tanya. She sizzles in her feature number Does Your Mother Know, flirting with 'Lothario' Skipper played by Sam Hooper. Westaby is one of those performers who mesmerises an audience, getting laughs from a well raised eyebrow or perfectly executed shoulder shrug. Lots of actors have played the role, but she made it her own.
Sam Hooper is another attention demanding performer, while his role is one of the smaller ones in the piece, he dazzled the audience with his energetic dancing, back flips and giant leaps – not to mention some damn impressive abs.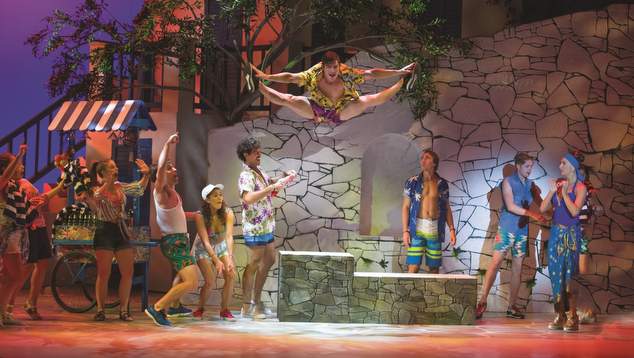 Rounding out the cast is Alicia Gardiner playing Rosie, and the trio of potential Dads – Ian Stenlake is Sam, Phillip Lowe is Harry and Josef Ber is Bill. Sarah Morrison plays bride-t-be Sophie and WAAPA graduate Stephen Mahy plays fiance Sky.
This new production has completely different staging to the previous times this show has been in Perth and it's a sassier delivery of the story, there's a lot more sexual tension injected into the story and performances.
The real power of Mamma Mia though is ABBA's timeless songs, from Dancing Queen to Voulez Vous, I Had a Dream and Take a Chance on Me through to Knowing Me Knowing You, Money Money Money and The Winner Takes It All – it's a show you can't help but sing-a-long to.
Grab some friends, get some tickets and enjoy a great night out.
Graeme Watson, top image: Graeme Watson, other images: James Mason
---