Review: Mr Femme Fatale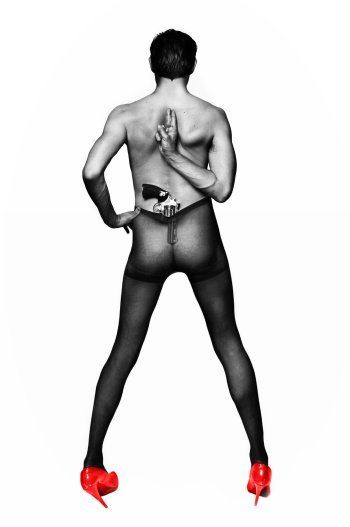 Dosh Luckwell has tenacity. He's a spunky young performance artist more than capable of piking up the mail and pushing all the envelopes therein well and truly through the slot… or wherever it is you push the envelope to. In his Fringe World show, Mr Femme Fatale, Luckwell mixes myth, motion pictures and madness all up together to deliver a madcapped hour that meanders through the very meaning of androgyny.
Luckwell himself isn't perhaps the poster-pin up goy (girl/boy) for androgyny, but he gets respect for giving it a red hot go. In black stockings and red hot kitten pumps, his makeup smeared deftly across his pointed good looks, Luckwell delivers a creation myth of how the sexes came to split. This is Luckwell's strength: his sense of mythology is something that pervades his writing and poetry and he writes it with conviction and aplomb. He could recite the periodic table and his dreamy dulcet tones would give it a much needed sexual charge.
It's in his hunt for legendary director James Cameroon that Luckwell draws the most laughs. As a patische princess called Amazing Amy, Luckwell charges headfirst into innuendo, explicit dance routines and some questionable wardrobe choices. Still, his vigour and verve is addictive: Luckwell is most certainly a clown prince, and will go to any length to spread mirth among his audience goers. The result is captivating. And, thankfully, not in the way a car crash is
What results is an oddball comedy that attempts to define the role of gender. Luckwell does this with tenacity. While straight audiences might be a little agog at all the high heel wearing, queer audiences will commend Luckwell for his genderfuck tour de force. And while this isn't Shakespeare, Luckwell writes and delivers some truly beautiful and memorable lines. Well worth seeing.
Mr Femme Fatale's final performance is tonight, Feb 11, at the Treasury Mess Hall.
Review: Scott-Patrick Mitchell, Image: David Charles Collins
Further Reading: Check out Scott-Patrick Mitchell's interview with Dosh Luckwell about his CD Sex Poems.