Review: Onegin is Filled With Romance and Reality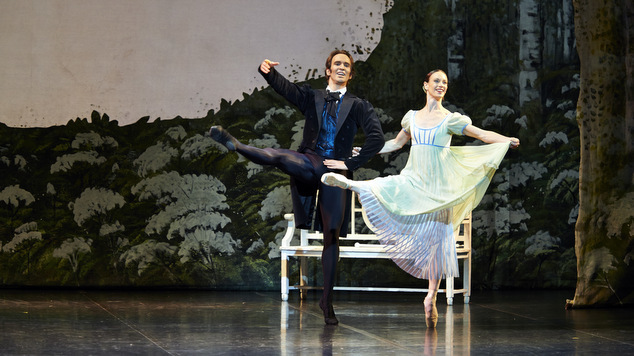 There's something incredibly refreshing about seeing a ballet where it's just about people. No girls turning into swans, toys coming to life or supernatural spirits stealing people's souls.
'Onegin' is based on the novel by Russian writer Alexander Pushkin. It was first turned into an opera by Tchaikovsky in 1881, but this ballet was created by choreographer John Cranko in 1965.
The music is not that of the Tchaikovsky opera but rather other small pieces written by Tchaikovsky that were assembled together by composer Kurt-Heinz Stolze for the 1965 ballet. The music is simply gorgeous, incredibly romantic and flowing.
Cranko's complex choreography is a big challenge for the dancers, one of the reason's this work is so rarely performed is few company's are given permission to stage 'Onegin' and tackle the choreographers intricate moves. The WA Ballet excel in this production, showing how they are growing in as a company, not only in size but in ability too. The dancer leap, twist, spin and turn in a mesmerising display of technical skill.
'Onegin' is a romantic tale, but maybe not so much a great love story, more a great reality story. Young Tatiana is preparing to celebrate her birthday, hanging out in the garden with her mother and her sister Olga and other women they gossip about men and future husbands. Olga's finance the poet Lensky arrives, bringing with him his friend Onegin. The handsome aristocrat Onegin has become bored with his life in the city. Tatiana falls in love with Onegin but he only sees her as a naive country girl.
In her bedroom at night Tatiana writes about her love of Onegin, he appears in her mirror and she dreams about being with him. Later at her birthday party Tatiana's mother introduces her to Prince Gemin, who is love with the girl, but she is only interested in Onegin. Onegin tells Tatiana that he's not into her and tears up her letter. Onegin moves on and starts to chat up Tatiana's sister Olga instead. Lensky is outraged that Onegin is chatting up his fiance and challenges his friend to pistol duel.
When the two friends meet Onegin kills Lensky. Tatiana realises that he's quite shallow and self centred, and Onegin is left aghast that he has killed his friend.
Years later Onegin returns from traveling the world trying to escape his past actions. He attends a ball hosted by Prince Gremin and is shocked to discover the Prince's beautiful and entrancing wife is Tataiana, the girl he dismissed many years before. Now after many years have passed he declares to Tatiana that he is now in love with her. Tatiana must decide whether or not to accept his overdue advances.
Even though this is a story from the 1800's, it's incredibly accessible, it could easily be the events of a modern Saturday night. Although without the pistols, duels, dresses and letter writing – modern romance seems a bit stale.
This three act ballet is fast paced and the story line is easy to follow, while some of the acting within the piece is a little over the top, the dancing is emotive and expressive. Making his debut with the West Australian Ballet Jiri Jelinek is eye catching as Onegin. He's taken on this title role before at the Stuttgart Ballet and on opening night totally inhabited the part. Jane Smeulders is excellent too, aside from her amazing dancing she also conveys a subtle range of emotions as the younger, and then older and wiser, Tatiana.
Adding to the romanticism of  'Onegin' is the stunning set and costumes designed by the late Elisabeth Dalton. For the balls and parties of this tale there's a parade of beautiful dresses and handsome uniforms all in subtle shades of peach and lilac.
The highlight of the show is the intricate and powerful pas de deux between the two leads. This is classical ballet at its best a great combination of engaging story and creative execution. Onegin is filled with, power, emotion, tragedy, torment and unrequited love.
Onegin is being performed by the WA Ballet at His Majesty's Theatre until 5 October. Tickets are available at Ticketek.  
Graeme Watson