Review | Poorly Drawn Shark bites hard, it's very cutting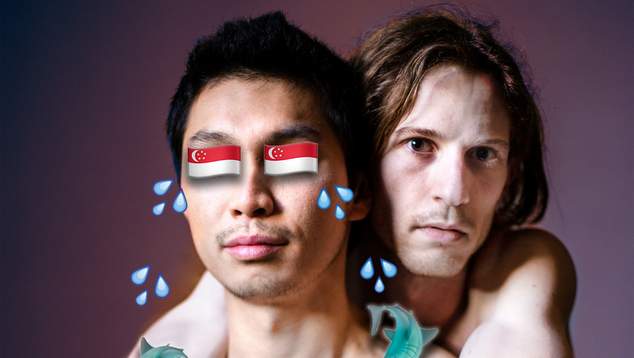 Poorly Drawn Shark | The Blue Room | Until 26 January | ★ ★ ★ ★ ½ 
Poorly Drawn Shark sees performers Andrew Sutherland and Ming Yang Lim delivering a captivating and clever series of reflections on their association with Singapore.
Delving into how they each once lived within Singapore's culture, it's lively gay party scene, and the differences between Singaporean nationals and the country's ex-pat community,together Andrew and Ming crash tackle the big issues of the conservative hub in a performance that's bold, daring, shocking, hilarious, and exceptionally brilliant. If this show was delivered in Singapore – it would definitely be banned hours after the first outing.
Andrew Sutherland spent five years living in Singapore working as a model and an actor. He recounts how he worked his way through the white boys who populated the local gay club night, before finding his way into underground sex parties and an unconventional relationship with an older Singaporean man.
Ming Yang Lim plays a variety of characters throughout the piece, but also shares his own relationship with city. As an immigrant from Singapore he longs to return to see his family, but if authorities are not one-hundred-percent convinced he's no longer a citizen, he could find himself arrested at the airport for not having completed national service.
Woven throughout the work are clever references to sharks and predatory behaviour. From Sutherland being told that in profile his nose looks like a "poorly drawn shark", to comments on the power dynamics in relationships between men of different cultures and ages, and an extremely popular and annoying children's song. The shark swims through many different guises.
None of Singapore's 'sacred cows' are safe in this show and you'll probably never see the Merlion is the same way ever again, and Singapore's founder Lee Kuan Yew is recast from 'Father of the Nation' to 'Daddy of the City'. If you've ever spent time in Singapore you'll recognise many of the cultural quirks this team tap into.
At a time when LGBTI rights are at the forefront of political discussion in Singapore, this play is incredibly relevant. It overtly sexual, challenging the push within Singapore for queer rights which is cased in friendly pink dots and family values. It boldly reminds us that gay men in Singapore like to fuck as much as gay men anywhere else in the world.
Andrew Sutherland and Ming Yang Lim deliver exceptional performances in this show directed by Joe Lui. It is fast paced, provocative and very camp. Grab a ticket before it sells out.
Poorly Drawn Shark is showing at The Blue Room until 26 January, tickets available from Fringe World.
Graeme Watson, Graeme was based in Singapore from 2000-2002, this show made him desperately want some really good Char Kway Teow.