Review | 'Rocketman' reveals the Elton John beneath the costumes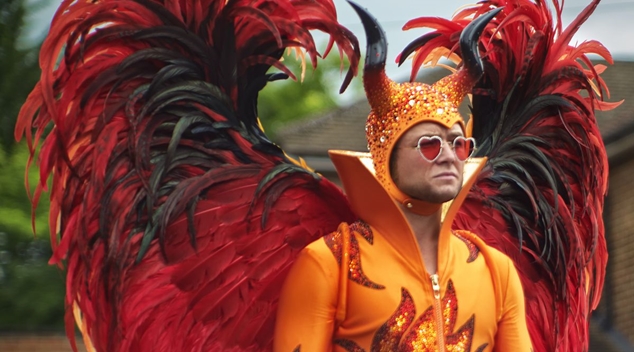 Rocketman | Luna Leederville | ★ ★ ★ ★ ★ 
Receiving praise for his singing from Elton John himself, Taron Egerton is magnificent as he recreates the rise and early career of the iconic singer. Directed by Dexter Fletcher, who stepped in to complete the recent Bohemian Rhapsody biopic, the opening immediately connects the audience with the shy piano prodigy underneath the outrageous costumes.
Costume designer Julian Day not only recreates the most ostentatious ensembles but improves them. The memorable opening scene shows Elton walking down a crowded street in his bright orange devil costume, complete with horns and enormous feathered wings. He walks into a room and deposits himself on a vacant chair with the few people already seated in a circle.
Elton's problems with his weight and his hair are nothing compared with his admissions to the small Alcoholics Anonymous group seated in the bare room. His struggles with alcohol, bulimia, legal and illegal drugs as well as sex and shopping addictions have led him to this gathering to tell the story of his upward and downward spiral.
We discover the childhood that left a lasting effect on the man, his struggles with fame and his sexuality, and the disastrous relationships. Positives emerge in the form of Elton's long-time lyricist Bernie Tauplin (Jamie Bell) and Renate Blauel (Bryce Dallas Howard, daughter of Ron Howard), the German sound engineer who he married.
Snippets of the well-known songs are used to highlight pivotal events of Elton's life, with Egerton singing the famous tracks as well as recording a duet with Elton that plays during the credits.
Luna Palace will launch Rocketman on Thursday 30 May at the Windsor where DJ BassInvader tells his Elton John story by spinning his favourite tunes, and have an Elton John Tribute Night on Friday 31 May at Luna Leederville – so dress in your glitteriest, glam-rock outfit, your highest platforms and your most outrageous glasses! 
Lezly Herbert
---