Review | Say "Hello" to the comical 'Book of Mormon'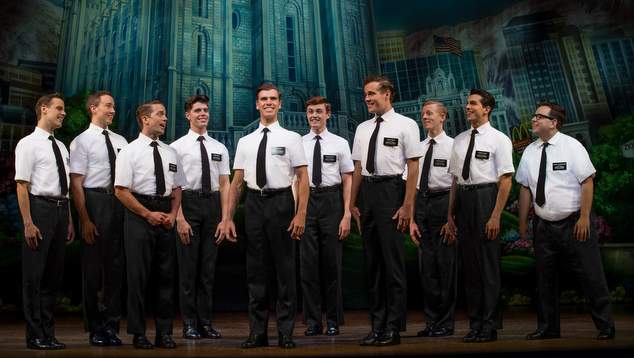 The Book of Mormon | Crown Theatre | Until 17th November | ★ ★ ★ ★ ★ 
The smash hit musical Book of Mormon has made it to Perth eight years after its Broadway debut, and it's a comical and uplifting experience that was totally worth the wait.
Created by Avenue Q composer Robert Lopez and South Park duo Matt Parker and Trey Stone, the show follows two young Mormon men has they head out on their mission to spread the word of their religion.
For Elder Price, played by the talented Blake Bowden, the journey is not what he was anticipating. First he's teamed up with the awkward Elder Cunningham, brilliant portrayed by Canadian performer Nyk Bielak, and then rather than being sent to his dream location of Orlando Florida, the pair are assigned to Uganda.
This show has one of the greatest opening numbers in the history of musical theatre, it's up there with The Sound of Music, Oh What a Beautiful Morning from Oklahoma, Willkommen from Cabaret, Chicago's All That Jazz and The Circle of Life from The Lion King.  
Hello will also ensure that you'll never experience opening the door to two boys in short sleeved white shirts with name badges in the same way ever again.
After the introduction we follow our heroes to Uganda where they join a team of young Mormon missionaries who are failing to convince anyone to join their religion. The local have far more important concerns to deal with including poverty, AIDS, warlords and Female Genital Mutilation.
The tale pokes a lot of fun at the Church of Latter Day Saints, ridicules most organised religion, but ultimately embraces the themes of bringing people together and finding a mission in life. There are moments that some people may find shocking, but what would you expect from the team behind the satirical cartoon South Park? 
Without question, there's a lot of dubious elements in this show that you might find yourself debating afterwards. It does trivialise serious topics facing people in Africa, and it does blatantly misrepresent what Africa looks like, and the intelligence of African people. In equal measure though it has a lot of positive themes as well, and it could be argued that most organised religions spruiking their belief systems do treat African people with simplicity and contempt.
The show is faced paced and filled with laughs, the cast have been performed the show hundreds of times and it's a flawless precision delivery. There was not a single dull moment from the moment the band strikes up to the standing ovation as the opening night curtain fell.
Tigist Strode plays love interest Nabulungi – delivering a stellar performance, while Joel Granger steals every scene he appears in as the very fabulous Elder McKinley. They are backed by an ensemble of enthusiastic performers who populate the ranks of Mormon missionaries and African villagers.
The many highlights of the show include Spooky Mormon Hell Dream where a tormented Elder Price awakes to his vision of hell where he dances with Hitler and parties with Satan. The uplifting I Believe will stick in your head for days, and Joseph Smith American Moses is deliciously inappropriate.
The Book of Mormon is at Crown Theatre Perth from September 3rd. Tickets and more information available from bookofmormonmusical.com.au
Graeme Watson
---