Review | Skye Scraper: The Life and Times of a Drag Queen Accountant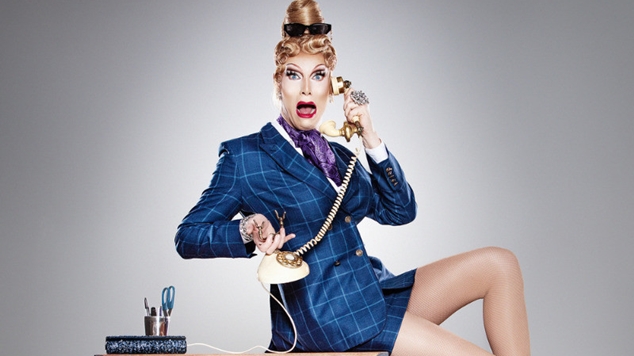 Skye Scraper: The Life and Times of a Drag Queen Accountant | The Little Palais
til Jan 29 | ★ ★ ★ ★ ★  
Skye Scraper, drag performer, and John Hugo, accountant, are both undoubtedly the kind of person who will tell you a story that elicits the response: "You should write a book about your life!"
In Skye Scraper: The Life and Times of a Drag Queen Accountant, John and his alter ego Skye have chosen heels to stage, over pen to page, in an autobiographical drag cabaret stacked with salacious anecdotes and tales of misadventure.
After the audience packed into the tiny spiegeltent, Skye bursts through the door, ducking low to miss the frame. Something I'm sure she'd have to do even without the heels. She apologises for her lateness, she's just had to rush from the office!
This is the dichotomy at the core of the show. By day, John is a mild-mannered (ha!) accountant. By night, she is the towering, glamorous drag sensation, Skye Scraper!
Skye and John, who are differentiated on stage by a change in lighting and voice, share the story of their emerging dual careers, balancing the pressure of finding his footing as a young queer person at a major corporation, and trying to hone her craft and make a name for herself as a drag performer after hours.
As such, her audience is a mix of drag performers, arts folks and, well, accountants. From the jump, Skye cleverly nods to her diverse audience, breaking down the drag and arts slang for the baffled white collar crew in the crowd, making sure everyone is in on the laughs.
The simplification of the language and standards of drag for the layperson is a common theme throughout the performance. One of the many highlights of the hour was an interactive build-your-own-drag-number using signs and a very sweet, shy audience member who Skye did an impressive job of making feel comfortable once he was under the spotlight.
It wasn't until after the show that it occurred to me that much of the performance was monologue. Skye is an exceptional raconteur, and she delivers her stories in such an engaging way that the audience was completely captivated throughout. Each anecdote flowed seamlessly into the next, and there was barely a moment of silence between the crowd's thunderous laughter.
I was totally in awe of the sharp and skilful writing behind this performance. Every joke was a smash hit; well-timed physical comedy was peppered throughout the monologues and lip-sync numbers; voice-over gags elevated the rest of the comedy without becoming a crutch, and Skye delivered it all magnificently.
That excellent writing extended to the few moments of earnest reflection in the show. Skye provides some eye-opening insight into the struggles of being out and queer in a rigid corporate environment, and the tokenistic gestures big companies tend to deploy to buy favour with LGBTQIA+ and other communities. It's also a reminder that our queens (and kings and non-binary performers) work incredibly hard to keep us entertained. Give the queen a fucking dollar!
Together, all of these elements make for an outstanding Fringe World outing. If there were any rough edges to this show in its infancy, they were completely obscured by Skye's charming, camp performance and side-splitting comedy. I honestly can't remember the last time I got so many big, hearty laughs from a live show, it was spectacular.
I promise you, attendees will see a massive return on their ticket investment, and I'll be watching with great interest to see what this ambitious young queen has in store for us next.
Skye Scraper: The Life and Times of a Drag Queen Accountant has tickets available for Sunday 29 January. Head to fringeworld.com.au for more.
Leigh Andrew Hill is an editor at OUTinPerth, with a BA from the University of Western Australia in Media Studies & Art History. Since 2005, Leigh has studied and practiced journalism, film-making, script-writing, language, contemporary performance and visual arts. Leigh is also a freelancer writer, and producer and presenter on RTRFM 92.1.
---

You can support our work by subscribing to our Patreon
or contributing to our GoFundMe campaign.