Review: State of the Art Festival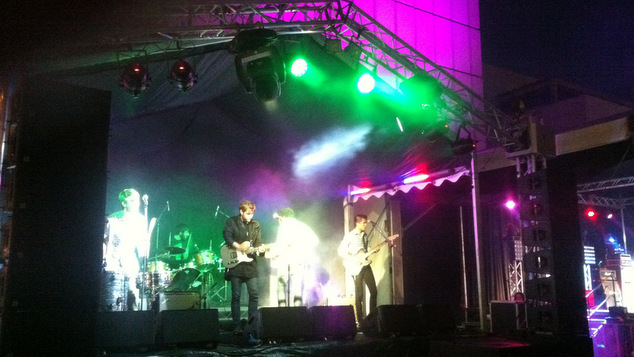 This year's 'State of the Art' festival once again showcased impeccable local musical talent that is currently spilling out of Western Australia in the form of local artists such as Abbe May, Chain, and Karnivool.
Held at the Perth Concert Hall, the festival functioned both inside the Concert Hall and outside, where pop up stages housed a stream of local bands delivering music that has left WA's borders and garnered popularity both interstate and overseas.
Inside from 4.30pm brought you Abbe May's 'Kiss My Apocalypse' album launch, support act Shvendes warmed up to what was a perfectly executed delivery of May's highly anticipated Doom Pop record, a venture that shifts away from her previous rock 'n' roll, gritty, guitar laden tracks.
Songs that stirred up the crowds in particular include 'Karmageddon', 'Sex Tourettes' and 'Perth Girls' – a track we predict generating popularity on the local music circuits.
Lighting and smoke machines created an atmosphere true to Abbe May's reputation – sultry and sexy. Would she have it any other way?
Taking nothing away from May's talent, a couple of things did let down what would have been a perfectly executed set, these include:
We understand the festival had a daytime focus, but an odd late-afternoon start for May's launch seemed to stint what could have potentially been a killer evening performance. The artist's style of music would have definitely been better served kick-starting at eight and rolling over through to ten, finishing up with some tequila shots and a rolled cigarette.
Attempting to fill such a huge theatre was quite ambitious even for the likes of WA music legends such as May, although she did a damn good job of nearly filling it, empty spots deadened the atmosphere a touch.
Confusion around where exactly your ticket allowed you to go also led to frustrations, walking through crowds of people asking uninformed staff 'where can this ticket gain me access too?' happened on more than one occasion.
Outside the talent was first rate but watching bands in the biting cold is challenging. The much hyped Grace Woodroofe showcased her amazing voice, Bob Evans performed a captivating solo set, and Eskimo Joe front man Kav Temperley performed a set of his band's many hits. One of most impressive performances of the day was from Runner, a newer band who feature two drummers and four guitarists, creating a captivating onslaught of sound.
Aside from these few hiccups (which will probably be ironed out by the time next year's festival rolls around), the festival represented a vast array of stupendous Western Australian talent; we will definitely be attending next year.
Nadine Walker, Graeme Watson
Image: Runner