Review: Under the Milky Way – The Great Australian Songbook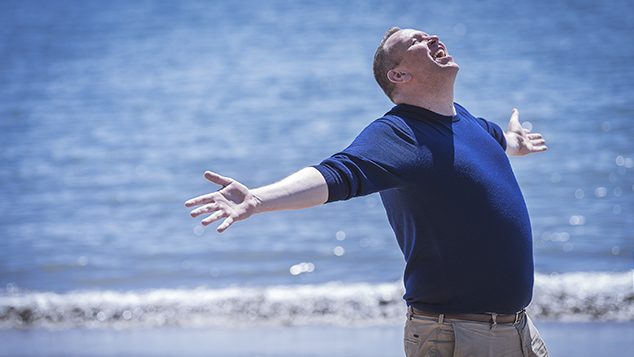 Under the Milky Way | Downstairs at The Maj | Until 20 July | ★ ★ ★ ★
There's a great joy is seeing Jones enthusiastically belt out a well known song on a piano, something we can sing-a-long to, clap our hands and stomp our feet. With this brand new show, Trevor Jones delivers exactly what he promises, an hour and half of laughs, songs and fun.
While 'The Great American Songbook' usually taps into standards of the 40's and 50's, it seems Australia found its identity in the late 70's and mid-80's. After all our most iconic tunes like Peter Allen's I Still Call Australia Home, Hunters and Collectors Throw Your Arms Around Me, and the tune from The Church that this show takes it name from are all from this period.
Jones takes the audience on journey through a catalogue of Australian artists, cleverly mixing the expected selection, with the occasional choice slightly to the right of centre. A lot of the fun of this show is guessing what bands might come up next – surely there has to be some Cold Chisel before then curtain drops?
The show's great reward is you leave the theatre thinking of a hundred Aussie bands that were not included, sadly Kids in the Kitchen, Pseudo Echo, The Triffids, The Venetians, The Sunnyboys, Vitabeats, Boom Crash Opera and Noiseworks don't make the cut. There's heaps of room here for a sequel. Jones cleverly opens the door to our memories and leaves us wandering inside.
There are some brilliant comedic off-the-cuff moments in the show. Jones wonders if he's the only one who learned all the words to the rap in Kylie Minogue's Shocked (you're definitely not), and offered the audience an interpretation of Beyonce singing The Angels that was unforgettable.
Over the course of 90 minutes Jones, backed by a three-piece band, takes us by the hand and delivers fun, comedy and laughter – but he can really sing – and when he tackles some of the big emotional numbers it's heartbreakingly beautiful.             
Graeme Watson
---