Review | Unmet desires rise to the surface in 'The Blue Caftan'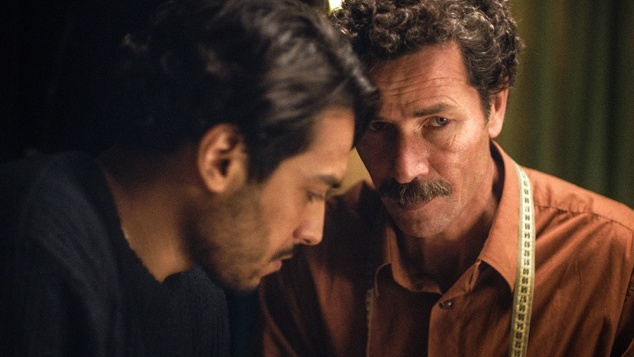 The Blue Caftan | Dir: Maryam Touzani | ★ ★ ★ ★ ½ 
Halim (Saleh Bakri) is one of the last 'maalems' or masters who makes caftans completely by hand, without the aid of a sewing machine. It is a skill passed down from his father and is a slow process. When a wealthy woman orders a blue caftan, she is told that it will take six weeks to make.
Halim runs a traditional caftan store in Morocco with his wife Mina (Lubna Azabal) and Mina, whose health is failing, hires a young man Yuossef (Ayoub Missioui) as an apprentice. Working in the claustrophobic confines of the shop, Halim and Yuossef become close and we learn of Halim's repressed sexual desires in a country where homosexuality is illegal.
This second film from writer/director Maryam Touzani, whose two films have been the Academy Award entries for Morocco, where homosexuality is such a taboo subject. Touzani sees that some things are accepted in her country if they are not spoken about, but she wants them to come out into the open in order to bring about change.
Away from the bright light and dazzling colours of the street, her film takes us to the bathhouse, the workplace and the home. These are graceful and restrained worlds where there is minimal dialogue, brief glances and subtle allusions that show the desires of the three main characters. The intensity in the close up shots conveys what cannot be out into words.
Touzani has said that she thinks life is about detail. "Sometimes we are waiting for the huge things and big events, whereas we don't see the little things that are essential to our everyday existence. And that's where I wanted to put my focus: on all these little details that constitute the life of this couple. But what I wanted above all is to delve into the intimacy of their beings in order to understand them more."
Gold thread is spun for the delicate embroidery on the blue caftan which is central to the film and seems to supply the only colour in a subdued world. As Mina's health further deteriorates, Halim spends his time on trying to finish the caftan and Yuossef helps him care for Mina and run the shop.
This wonderfully mesmerising film will screen at UWA's Somerville from Monday 20 March until Sunday 26 March and at Luna Cinemas from 30 March.
Lezly Herbert
---

You can support our work by subscribing to our Patreon
or contributing to our GoFundMe campaign.