REVIEW: "Ze": Queer as F*ck!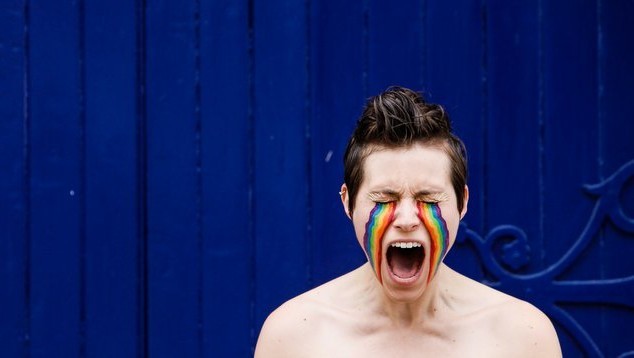 "Ze": Queer as F*ck!| 399 Bar – The Brown Fox – Workers Playground | Until Feb 21 | ★ ★ ★ ★ ½
It might be a little bit of an effort to find the venue for this show because its not grouped within the main staging area but believe me it is well worth hunting down this self described "queer as f*ck!" show.
From the outset you are confronted with a WTF moment and if you're anything like me you'll be titillated and find it difficult not to smile. As a Drag Queen and a self described sicko I loved the shock value. Welcome to Fringe World, right?
For all intents and purposes the host appears to be what I perceive to be a "stereotypical lesbian", but after some time, I had my own preconceptions of the performance that was in front of me challenged as the show progressed. How I would describe it is a slow reveal using hir own life experiences to take you though hir own personal journey in finding hirself. Experiences that prompted hir to challenge hir own perceptions of gender and sexual identity.
This is an intelligent, thought provoking, highly entertaining and wouldn't you know it, educational performance. Prepare to get schooled and have your pre-conceptions shaken to the core not only about your host but also about yourself if you happen to be a practitioner of self reflection. Who knows where on the rainbow you fall or what label you identify with. Listen in, learn and decide for yourself where you fall.
"Ze": Queer as F*ck! has a long run moving from 399 Bar to The Brown Fox to Workers Playground – Studio. I hope each and every one of you see it. If only to have a crash course on Gender and Sexual identity and the slow reveal of defining and redefining who you are as you explore the dialogue that happens between your heart, head and nether regions.
Rachel Discrimination
Update: The original publication of this article contained an error, the artist was incorrectly identified by the wrong gender pronoun. OUTinPerth apologies to Michelle / Ryan for the error.