Ro Allen shares tips on how to be a good LGBTIQA+ leader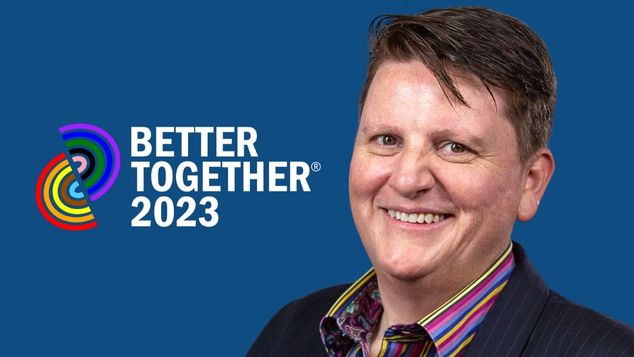 Ro Allen, Victoria's Equal Opportunity Commissioner shared their thoughts on how you can be a good LGBTIQA+ leader at Better Together 2023.
The two-day conference took place in Adelaide and saw over 900 attendees gathering to discuss important issues affecting the LGBTIQA+ communities.
Prior to their current role Allen was Victoria's first LGBT Commissioner from 2015 until 2021. Allen said when they first started their role in 2015 every time someone said "Good Morning Commissioner" they would look around to see who they were talking to.
"I just say to everybody, a good healthy dose of 'imposter syndrome' is good to have, it keeps you on your game, and want you to embrace that. Because when you don't have it anymore, it's time to move to the next job, and get the next challenge." Allen said.
"Don't be afraid to sit in the front." was Allen's second piece of advice on leadership. "There's a lot of people sitting in the front and some of you at the back. But don't be afraid to sit in the front, because I think visibility for our community is really important, and when somebody does ask you your opinion, that you should lean into that."
Allen's third tip was to under-promise and over deliver, while their fourth tip involved disruption.
"Number four, if you're not at the table, you can't turn it over." Allen said suggesting that when people aren't happy with the way something is delivered or run, rather than complaining they should volunteer or stand for the board of the organisation.
The fifth piece of advice was to find the "sweet spot" between vulnerability and authentic.
"We talk about bringing our whole-selves and our true-selves to everything. I think, as a leader, it's finding the balance between saying, 'I have no idea what I'm doing, follow me anyway, and being real." Allen suggested.
The Commissioner also suggested trying to avoid being in echo chambers, especially on social media which can be a space where everyone likes everything you do, and everyone one agrees with you.
"When I was the LGBTIQ, Commissioner in Victoria, once a year, I sat down with the Australian Christian Lobby and had a meeting, we had coffee, we broke bread, we talked, and it was hard. But it was really important. Unless you know other people's opinions, and where they come from, it's really hard to formulate your own arguments."
Next on Allen's list of suggestions was to understand your privilege. They recalled attending a workshop that featured a quote on the opening slide of a PowerPoint presentation that said; " It doesn't matter if you have privilege as long as the lever the shit out of it."
Allen recalled that one of their mentors early in their career was the late Victorian Premier Joan Kirner. Kirner was Victoria's first female Premier, and the first woman to win an election as Premier.
"She said to me, 'You know, I'll open the door for you. And now you need to open the door for three people behind you.'" Allen recalled.  "Every time you do that, I think you should say that to the person you open the door for, 'What's really important is that we do that we make space for each other.'"
The next tip was some advice Allen was given by their mother. It was pretty simple, "Keep yourself nice."
Allen shared that when they took on their leadership role as LGBT Commissioner, they had made the decision to never drink at public functions, but the philosophy extends to not gossiping, and not speaking ill of people.
The ninth tip was embracing "revolutionary patience". Allen noted that the campaign for marriage equality had taken decades, and Victoria's push to equality in adoption laws had taken 13 years.
"When we when we do have those wins, I think it's really important as leaders and community members to bank those wins, to celebrate the small wins along the way, and hold them really tight, because we know – we can go backwards."
Allen final piece of advice was this, "Don't do it alone. Leadership is a lonely place to do it alone." they said.
The Commissioner signed off their short presentation which was part of the conference's opening plenary with a quote from the writer Bel Hooks.
"One of the most vital ways we sustain ourselves is by building communities of resistance. Places where we are not alone."
Graeme Watson 
We acknowledge that we are on the traditional lands for Kaurna people and that we respect their spiritual relationship with their country. We recognise and respect their cultural heritage, beliefs and relationship with the land. We acknowledge that they are of continuing importance to the Kaurna people living today.

Better Together explores the current issues facing the LGBTIQA+ movement in Australia. Delegates representing Australia's diverse LGBTIQA+ communities and organisations have come together to share ideas and experiences, learn from each other, forge alliances and ultimately work together to build a better world for LGBTIQA+ Australians.
---

You can support our work by subscribing to our Patreon
or contributing to our GoFundMe campaign.