Ryan Mathew Schulz finds success in London's cabaret scene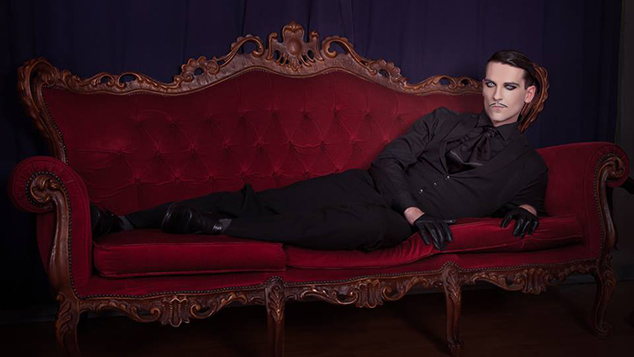 Ryan Mathew Schulz spent many years on Perth stages as drag performer Fab Panache. She made her mark on the local drag scene hosting queer nights at Leederville's Honey Lounge and Fremantle's East End Bar, and even released a single showcasing her singing skills.
A few years ago Ryan stopped performing drag and created a new male cabaret character Vicious Von Vixen. After publishing his autobiography Glitter Blood and Tears in 2016, Ryan and partner Blake Edward (aka Trash Valentine) decided to make the move to London.
Now he's making his mark on London town and has recently been nominated as one of the city's best cabaret producers at the 2019 QX Cabaret Awards. OUTinPerth caught up with Ryan to find out more about what he's been doing personally and professionally since moving overseas.

What is the work your nominated for producing? Tell us about it.
​
Well, the nomination is not so much connected to a piece of work specifically, as 'Best Producer' I guess it's connected to a whole range of works I've produced since hitting UK soil. I'd say I'm most well known for my resident show in Kings Cross called 'Vicious Von Vixen's Vaudeville', which is a modern contemporary cabaret, and offers audiences of London a variety showcase of burlesque, circus, magic, sideshow and old school cabaret.
The show was given a four week trial back in May 2017 based on my portfolio of work I produced back in Perth WA, and after the trial month venue management told me I was not going anywhere, and we just celebrated our second birthday show four months ago May this year.
I'm honestly so flattered and honoured to receive the recognition in a city which is full of such incredible creators and visionaries – after the nominations the public where asked to vote and I made the shortlist along the likes of London royalty Jonny Woo and Lolo Brow! It's up to the judging panel now, but I'm just happy to go along and celebrate at the awards night next Wednesday!
How have you been spending your time in London, what have you been up to?
​
What a question, time in London has been spent on so many different avenues, both personally and professionally. My partner Blake and I are now living a fully open polyamorous lifestyle, both with two other partners in our lives now whom we each care about very much, along with their partners, and they have both been such support to us in our transition into this big old city.
Professionally, I began working freelance and took on a contract as Arts Hub Manager for the International Youth Arts Festival, and in 2018 gained full-time employment at a Performing Arts Centre in Hampstead called Wac Arts. The organisation 'empowers young people through the performing arts' through a programme of all kinds of courses from weekend courses to a full-time Musical Theatre Diploma. I work with the corporate clients in the building which injects income back into Wac Arts programmes and activities, which sees me work with both high profile West End shows and independent production companies, where they utilise our studio spaces for rehearsals before a theatre bump-in or national/international tour.
Entrepreneurial wise, I've had the pleasure of producing a one night extravaganza for Proud Cabaret City, and last year teamed with the owner of Miss Burlesque Australia Melanie Piantoni to produce the inaugural year of Miss Burlesque UK which went down an absolute treat! Among other things.
How is the cabaret world in London compared to Australia?
​The cabaret scene is hugely different I have to say, it feels like Fringe all year round! I can honestly go to something every and any night of the week, and the community is so supportive of each others work, I can guarantee if I were to go out on my own – and it's happened before – for the night I will always bump in to people to enjoy the night with and catch up. It's a huge hub of creativity and everyone feeds off of one another's passion and drive – it's indescribable.
What do you miss most from Perth?
​I do miss Perth's incredible talent. Although there's a lot of shows and performers here in London, it's so saturated and can at times be very experimental, and not that there is a thing wrong with that, but Perth's standards of talent before producers put something in a show (or before a performer will even consider putting something on the stage) is absolutely impeccable.
Family is a given, I'm such a family man and I miss them so very much. As well as those historic friends you just can't replace, that you grew up with, had your first drink with, snuck out to a party with. My old work gang down and the Canning Showgrounds. And my burlesque wife Ava Royale, my pinup wife Miss Lady Lace, my Stuntmen of the Apocalypse crew, and my baby girl Aleeira Merlot – I miss those kids immensely.
Alas, Blake and I recently came back to Perth for our first visit home since we moved to London, and we felt exactly the same, that there was not much left for us in Perth apart from those loved ones – can you all join us in London please?
Follow Vicious Von Vixen on Facebook. 
Graeme Watson
---