Sacked – Rugby Australia tears up Israel Folau's $4million contract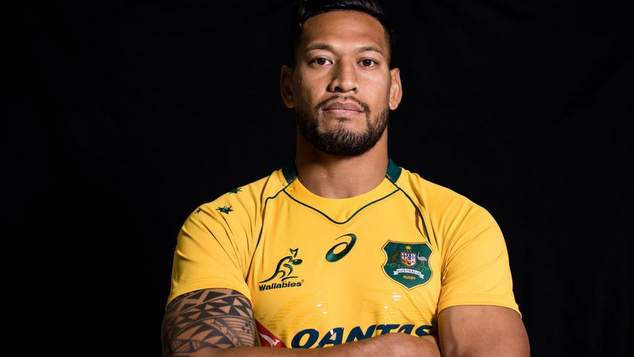 Rugby Australia have sacked Israel Folau, tearing up his $4million contract and ending his Australian rugby career.
The organisation had threatened to sack the devout Christian player over his social media posts where he expressed the view that homosexual, fornicators, atheists, thieves, idolaters and others would be sent to hell.
The player's conduct was reviewed by a disciplinary panel who found him guilty of a high level breach of the player's code of conduct. Today Rugby Australia officially informed Folau that they would be moving ahead with their plans to sack him.
Folau now has 72 hours to lodge an appeal against the decision, the appeal would be heard by a different set of panelists to the original hearing.
The case has regularly been highlighted as an example of freedom of religion being impinged in Australian society and a reason why the nation may need specific religious freedom laws. Prime Minister Scott Morrison has vowed to introduce legislation if he is reelected tomorrow.
Critics of Folau's posts have argued that his social media posts could have a negative effect on impressionable young people tackling their sexuality.
LGBTIQ+ group Pride in Sport have welcomed the decision from Rugby Australia. Co-Founder of the Pride in Sport Index and Vice-President of ACON, Andrew Purchas said the right decision had been made.
"Pride in Sport welcomes the recommendation of the independent panel and subsequent decision by Rugby Australia to end its contract with Israel Folau.
"This decision sends a strong message that homophobia and transphobia will not be tolerated in Rugby Union.
"The views of Mr Folau on LGBTQ people do not reflect community standards and expectations. Such statements work against the significant progress on acceptance and inclusion that is being made by sporting codes, clubs and organisations across Australia.
"Homophobia and transphobia has no place in sport, whether on or off the field." Purchas said. "We know that statements of sporting figures can have a profound impact on our culture, as well as have great influence on the community – especially young people.
"The statements made by Mr Folau can be detrimental to LGBTQ youth who already experience higher levels of mental health issues such as depression, anxiety, self-harm, suicide ideation and suicide as a result of prejudice, discrimination and exclusion.
"We commend Rugby Australia, as well as NSW Rugby Union, for their leadership and courage throughout this process. Their swift and decisive actions shows that homophobic and transphobic discrimination is not acceptable in sport and individuals – irrespective of their social or professional stature – will be held accountable for their words and actions.
"We look forward to continuing to work with Rugby Australia around inclusion at all levels of the sport, and urge all other sports wishing to do more on LGBTQ inclusion to contact Pride in Sport." the Pride in Sport co-founder said.
The Australia Christian Lobby (ACL) has rallied support for Folau, arguing that this is an example of freedom of speech and freedom of religion being eroded in Australia.
"The decision by Rugby Australia means that quoting a bible verse is now considered a high-level breach against their code of conduct," the ACL managing director Martyn Iles said last week.
"This is a dangerous precedent for religious freedom in Australia."
"According to RA, the very act of quoting a bible verse, which is believed by millions of Australians who profess a Christian faith and attend church regularly, is incompatible with being a rugby player."
"This marginalises and silences a large portion of Australians who believe that sin is real, hell is real, and salvation in Jesus Christ is the equal answer for all, regardless of our identity or background."
"All Australians should know that they are free to express their beliefs which form part of their identity without fear of being unfairly censored or discriminated against." Iles said.
The ACL boss said Christians in Australia were now living in fear of expressing their beliefs, and he called on the next federal government to take action on the issue.
OIP Staff
---