Scream Queen: Bite Marks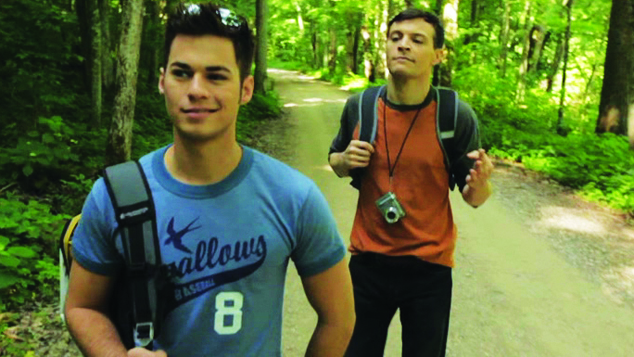 Films involving Queer vampires used to be pretty much confined to the grrrls- films like Countess Dracula, The Hunger and Vampiros Lesbos all contributing to the Sapphic serum-sucker subgenre. Thanks to the homoerotic hi-jinks of Twilight series though, the fellas are getting their fang on again!
Bite Marks, out soon on DVD, is a 2011 horror/comedy about a bickering gay couple made up of cheating-prone twink Cary (Windham Beacham) and his exasperated wannabe-husband Vogel (David Alanson), Beacham and Alanson are a couple in real life too. The pair are trying to patch up their relationship by going on a cross country trip; unfortunately, the "cross country" part is starting to involve Cary sleeping with every man in the country and Vogel getting cross about it.
The guys eventually stop alternately arguing and making out long enough to encounter Brewster played by Benjamin Lutz, who calls to mind a gay version of Alex Krycek from The X-Files. Brewster is a trucker who is so deeply closeted he's only a Turkish delight or two away from meeting Tilda Swinton. Brewster gives the guys a ride, and it's not long before Cary is intent on returning the favour and giving Brewster a ride of his own- and Vogel is not too happy about it.
Blood is boiling on all sides- and thus it's particularly bad timing that the three men break down at a truck stop used as a hunting ground by a quartet of hunky, hungry vampires, who clearly espouse the Twilight vampire wardrobe- they have a serious collective allergy to shirts-  but unlike the sparklepires, they have no problem with getting their blood the old fashioned way from the spurting neck stumps of their ripped apart victims. Can the sexually charged trio of gay guys stop stabbing each other in the back long enough to stab the vampires through their hearts, or will the six-packed drac-pack have their disturbingly literal beefcake?
Brilliant, sexy, comedic and scary, this little gem also boasts a return to horror from gay actor Stephen Geoffreys, last seen sporting fangs as Evil Edin the 1985 classic Fright Night.  Suck it dry!
Gavin Pitts