Senator Fraser Anning launches rant about Safe Schools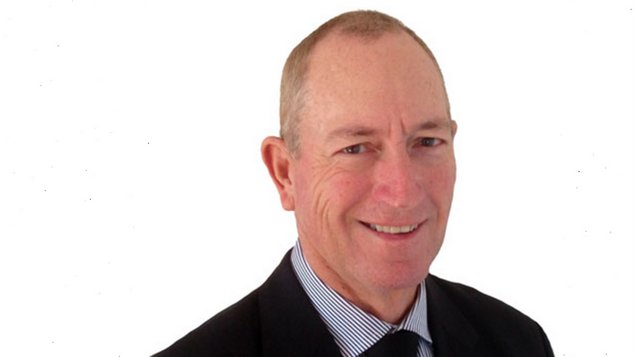 Senator Fraser Anning from Katter's Australia Party has launched a long rant on Twitter attacking the Safe Schools program and transgender youth.
The politician, who defected from Pauline Hanson's One Nation to the Katter Party, said in the late 1960's Australia would have declared the Safe Schools program to be communist propaganda and the people behind the educational program would have been "strung up".
Senator Anning said the anti-bullying program did nothing to improve the safety of school children and was a "dangerous and degenerate program".
In a series of tweets delivered over several hours Senator Anning said the idea that children might be involved in a role playing game where they imagine what it would be like to be same sex attracted was institutionalised child abuse","disgusting garbage" and "sexually deviant propaganda".
The senator said girls and boys who have "their bits chopped off" were delusional and people remained as their birth gender until their death, saying God made people either male or female.
The tweets then continued saying "In critical theory, ethnic and religious minorities, radical feminists, sexual deviants, Third World immigrants and antisocial criminals could take the place of the proletariat to create a post-communist revolution deconstructing traditional values and the white family."
The elected representative continued describing the school teachers and administrators of the Safe Schools program as "Commo perverts" intent on "destroying the traditional fabric of our society, corrupting our youth and creating Gramsci's nightmare vision of a Marxist utopia."
The senator finished his series of tweets taking a swipe at the children's book The Gender Fairy, saying it exposed children to radical gender theory.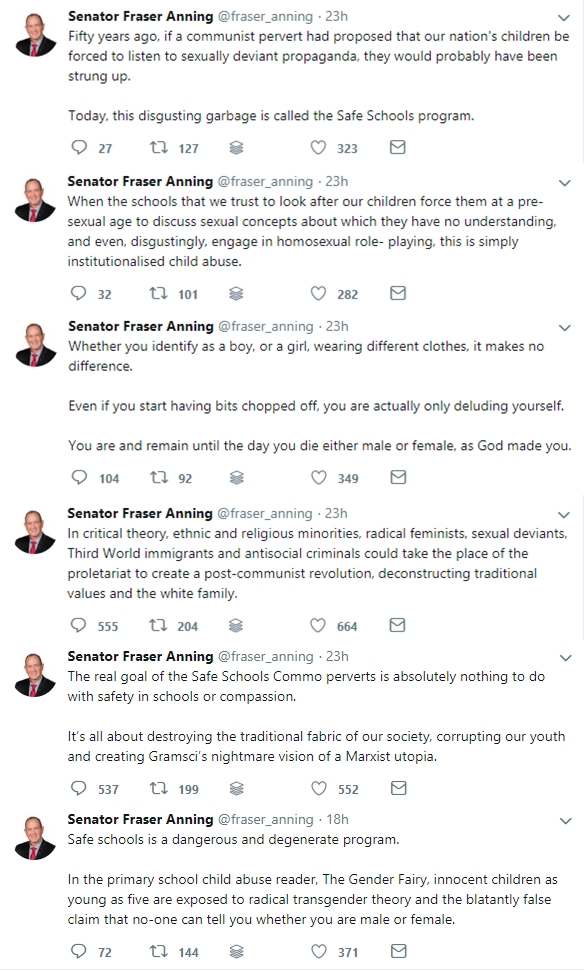 Senator Anning faced widespread condemnation in the parliament last month when his inaugural speech called for "a final solution" on immigration and a ban on Muslim immigration. The senator later said he was unaware the phrase was a term used by the Nazi regime to describe the holocaust.
Party leader Bob Katter said he stood by the senator and chastised journalists who suggested he should have been aware of history of the phrase.  "He didn't go to University and know the significance of all these words" Katter said.
OIP Staff