Setting an Example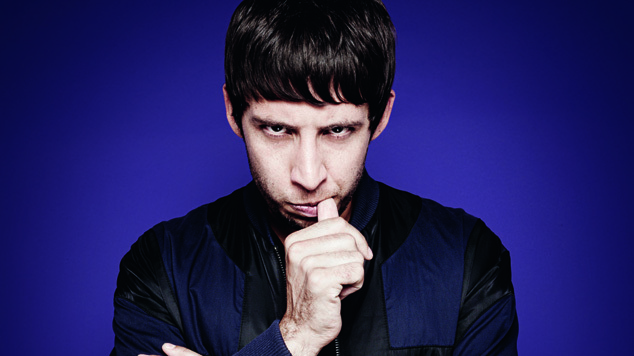 For someone that planned on becoming a film director, Elliot Gleave has certainly surpassed any expectations he had of a music career. Better known as Example, Gleave has released four albums, created festival anthem hits that have topped the UK charts, and travelled the world ten times over.
"I was making hip hop as a hobby!" he explained over the phone about how he dabbled in music whilst still in school, "I kind of only made that music to fit in".
Capturing the global attention of festival heads since hitting success with his second album 'Won't Go Quietly', Example has simply been making album after album drawing from his favourite bands and genres; it seems just a fortunate coincidence that we happen to like it.
Having sold half a million of his third album – 'Playing in The Shadows' – the British artist brushed off questions about his less popular latest record.
"It's my fourth album, 'The Evolution of Man', and my style has changed in every album, so I don't really care".
Taking a big risk shifting to electro-rock, the artist pointed out that although selling 50,000 copies was a drop from selling half a million, it was 'by no means a disaster'.
In reality, Example has been jumping style and genre quite drastically through every album; having always wanting to make a rock album, he explained how album number four came about:
"Every song in the album one of my favourite bands inspired it. When I made 'Come Taste The Rainbow' with Benga, I just wanted to do a song with some dub step drum cut into it, then I decided to do a massive rap at the start then singing at the end.
"'Perfect Replacement' was inspired by Rage Against The Machine, 'Are You Sitting Comfortably' was inspired by Slayer, 'One Way Mirror' was inspired by Red Hot Chilli Peppers, 'Say Nothing' was inspired by the Killers, every song on there is inspired by a rock band."
It was only recently that Example had to squash overwhelming requests for more dubstep, "People who liked my album from a few years ago have said 'can you make your album more Dubsteppy?!' and I'm like 'I've never been part of dub step! I've made a few tracks with a dub step producer!'"
"There are elements in there, but dub step is changing so much from six years ago, I think its dying a death now"
For those that ever thought that all of the his albums were dubstep, Example clarified, "the first album was pretty much hip hop, the second album was electro pop with rapping, the third album was a dubstep trance techno rave and the fourth album is electronic rock".
The star was beyond excited to hit Australian shores for a rural tour with Groovin' The Moo (plus sideshows)
"I've been to some of these places but I've never toured them! I've done tours in big cities. I've heard some of the locations are beautiful.  Boutique festivals with ten thousand people in a field… That's something I'm really excited about"
The Brit also revealed that he will be marrying here shortly after, "once I finish touring in Australia, I get married, up near Byron Bay!"
For fans coming along to gigs, Example promises tracks from his second and fourth album, a live band, and teasers from an album he's yet to even start.
Example will be headlining the 'Groovin' The Moo' Festival and performing a side show at Metro City. Grab your tickets from here or here.
 Nadine Walker