Sex Shooters: Locked and Loaded
The London based duo Sex Shooters have taken the world by storm, turning up parties, clubs and dance events across the globe.
The duo are bringing their high energy DJ performance to Connection over the Easter long weekend. OUTinPerth traded emails with the highly attractive pair and discovered one of them is no stranger to Perth.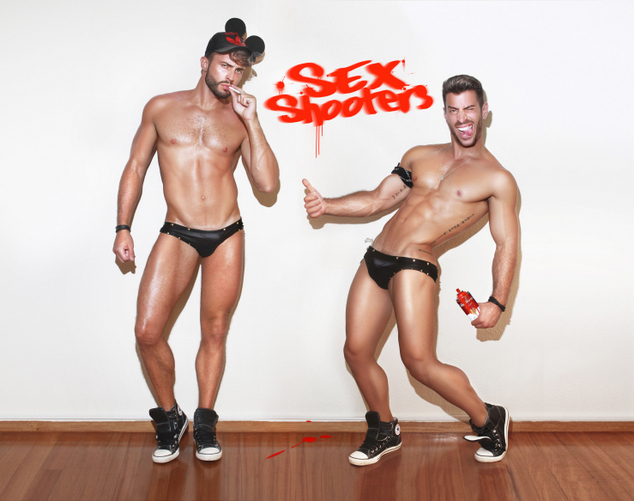 How did Sex Shooters come about, how long have you been DJing together?
Claudio: David was doing his photography thing at Gigolo in London and I happened to drop in for a drink after finishing a show. (I used to be an Actor) and the rest is history!
We started working together as Sex Shooters almost instantly, both having a complete career change and combined our passion for music too see where we could take it.
Two years on we've had an amazing time playing all over the world!
What kind of music do you like to play?
Claudio and David: Our sounds range from deep chilled house right up through to circuit and tribal house and everything in between.
As long as we like and we know it will get people excited we'll play it. Our style is based on creating a high-octane, sexually charged vibe that keeps that keeps crowds magnetised to the dance floor and dancing all night (and day!)
Will this be your first trip to Australia? What have you heard about our country?
David: Well… my first true love was Charlene from Neighbours and I lived and breathed for the wedding with Kylie and Jason. That 'Suddenly' song was everything to me. Rewind <<<< and Repeat! 🙂 Other than that this will be my first trip to Australia so I'm really excited to meet the people, see the beaches and get some much needed sun and speedo action!
Claudio: I'm a Perth boy! So Australia is home for me. However I've been living all over the world for the last 10 years and every time i come back to Perth it feels like a totally different city. Last time I visited I would have never have thought that I would be returning three years later as a DJ to play to my hometown!
Whats the worst thing abut being a DJ?
Claudio: Hmmm that's a tough question. There's not much I don't like about DJ'ing as it's a job most people would dream of having… Traveling the world, getting to play the music we love, to amazing crowds and epic venues.. I think I might sound like a bit of an asshole if I start complaining about DJ'ing!
Though if I have to mention one thing I'd say that finishing your set at 7 or 8 am and not having late check out at the hotel… Or worse still when you DO have a late check out and the cleaner decides to rock in at 11am whilst I'm passed out and nude in bed. 😉
David: Yeah that's so annoying! If I had to pick a worst thing about DJ'ing I'd have to say it would random requests coming in from drunken clubbers asking for totally irrelevant songs that would throw off our the vibe for everyone else in the room!… Babe, go listen to your iPod outside and let everyone else have fun! 🙂
What makes a great party?
Claudio and Daivd: It really is 100% about the crowd. When we are fortunate enough to be in a country were the people really know how to enjoy a party and give themselves up to the music and having a good time, then it gives us so much energy to return back to them with the best of ourselves and our sounds. It is essential for us to be partying along with the crowd so knowing everyone is having a good time is everything to us.
Of course a nice venue, good lighting, strong alcohol (Triple JD and Cokes please!) and a pair of hot DJ's helps!
When you get ready for a night out do you coordinate your outfits?
Claudio: Ah here's a sore point when it comes to the DJ'ing – picking outfits to wear!
David: When we're not DJ'ing our we kick around in shorts and vests spending time between the gym and the studio.
Claudio: We try not to check-in luggage between all of our flights so we've got a pretty minimal wardrobe available to us when we play.
David: It's quite funny really, I think we have 3 DJ 'uniforms' that are in circulation on this tour at the moment.
Claudio: There's the black vest…
David: Our lumber jack cut off shirts (definite matching outfit)
Claudio: And… Our denim cut-off things, but thinking to hit to the shops in Perth for our Connections and Perth debut! Suggestions anyone!?
Catch Sex Shooters David and Claudio at Connections Nightclub on Sunday April 5th. Follow the boys on Facebook and Twitter for their latest updates. 
Take a listen to their sounds below.