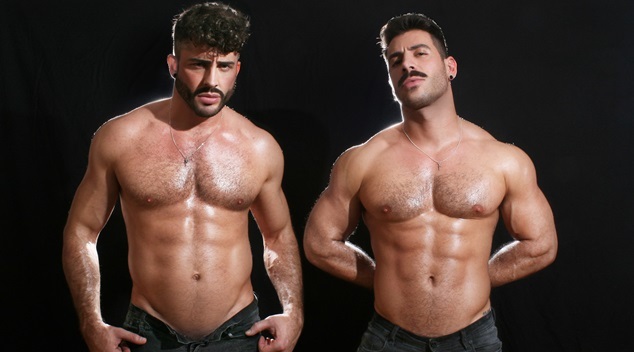 London-based DJ duo David Hart and Claudio Girardi, better known as Sexshooters, are bringing their sensual sounds to Connections Nightclub this March.
Known for their thrumming carnal beats, the pair are returning to Perth for a very special night at Connections Nightclub and the dancefloor is sure to get heated.
David and Claudio tell OUTinPerth about what they look for at a party, what they don't and what's on their personal boudoir soundtracks.
What sounds do you look for when making a mix?
David: We like our sound to be as varied as possible though still fitting perfectly within our vibe or theme. Tracks need sexual energy and hard pumping beats. These days more often than not we end up building our own reworks as we can't find existing remixes we like enough!
Claudio: When not using tracks we have made ourselves, I'm very very picky with music and only a certain few tracks make it past my judgement. David will present me with a heap of his new favourites and potentials for our sets and then we argue it down to the few chosen ones!
Your Soundcloud page says "dance pump and f*ck to this…" – So what are your #1 bedroom tracks?
David: Pretty simple here, I always go for Madonna's Erotica and Bedtime Stories albums or if i'm really in the mood, anything from Lil' Kim, she's super fun to get slutty to!
Claudio: Anything from Booka Shade can be pretty horny if I'm getting to it… and definitely Barry White always gives me a tingle, just imagine him in the bed with Sexshooters. Hahaha!
Will you guys be heading east for Mardi Gras this year?
Yeah, it will be our first Mardi Gras actually, we are doing a couple of parties out there. The super fun Beresford and then across to another hot party – Therapy – which we have heard is gonna be epic!
Name a tune you never want to hear in the club again.
David: Hmmmm well its not a club track, but if anyone dares mention Taylor Swift it makes me feel sick and violent at the same time.
Claudio: F*cking Pretty Girls by Iggy Azalea and Britney Spears… God! What an annoying dumb song 'sung' by two desperate banshees!
We know Claudio is a Perth boy – are you both excited to be coming back?
David: Always! I love Australia and any excuse to be there is good for me, especially being able to do what we love doing and plan to live on the beach in Perth the whole time we are there!
Claudio: Mum, if you are reading this… please don't be annoying, we want to visit and have a good time with you guys! Haha (…no joke.)
Where are your favourite parties to play at around the world?
Paris is our favourite in Europe, we are currently residents with Scream there and always have the best time and the guys really like to party! Not forgetting Australia though which is always a blast and feels like home!
What should newcomers to a Sexshooters show be ready for?
David: Expect magic, explosions and high wire strip routines in nothing but fur g-strings and 7" heels, haha!
Claudio: Hahaha! Our music is our show, we are all about the music, the energy and giving a good time to the crowd!
Don't miss the Sexshooters at Connections Nightclub on Saturday March 4th. Head to Facebook for more info.
Leigh Hill