Silver is the new black: Why Artrage is so damn cool!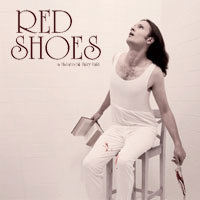 What started off in 1983 as a fringe arts festival has now, 25 years later, grown into a veritable institution. This October and November, Western Australia's longest running not-for-profit arts organisation will celebrate its silver anniversary with the Silver Artrage Festival. Yes, silver is the new black as Artrage 'come back' with the strongest and most cohesive program they've had in 10 years.
Of course, there are many highlights in this year's festival, but none bigger than the huge Silver Artrage 25: The Exhibition at PICA, a large scale retrospective of some of Perth's biggest and brightest established and emerging art stars. Among them are queer artists Jo Darbyshire, Andrew Nicholls, Simon Pericich, Mickie Quick and Rose Skinner, the super hot set that includes James Angus, Patrick Doherty, Rodney Glick, Jodee Knowles, Arlene Texta Queen, Tanya Visosevic and Josh Webb plus street art darlings like Creepy, Daek, Deathbot, Ololo Hurben, Ree, Slam, Sleep, Trevor 6025, Yok and internationally acclaimed Stormie. And that's just to name a few!
'A fascinating research scan of living WA contemporary art history has been driving the development of this show,' said exhibition co-curator and Artrage CEO, Marcus Canning. 'We have sourced works from almost all of the major private and corporate collections in Perth, as well as the collections of the artists, many of whom are flying back home from interstate for the opening.
'Works range from the very small, to the monstrously large including a waterfall of ancient wooden ladders suspended above the viewers heads. The end result is an amazing as well as very dramatic representation of Perth's own arts history.'

Elsewhere in the program is the exciting new work from the 'golden-boy' of theatre, Matthew Lutton. Red Shoes is a reinterpretation of a Hans Christian Andersen fairy tale, the one about the girl who becomes so enamoured of her red shoes that she thinks of nothing else. Until, that is, her red shoes become possessed and she finds she can't stop dancing. This leads her to cutting off her own feet. It's the inspiration for Lutton's ThinIce Productions new work, one which heralds a new direction for the 24 year old theatre maker.
'Red Shoes is the beginning of a new phase of work for me,' Lutton explained. 'Hopefully a phase that is more controlled, more focused, more sophisticated. Red Shoes is the first of many projects in the pipeline where I am taking an existing story and turning it into a piece of theatre (as opposed to working with an existing script). It's about taking stories that we already know and finding a personal and wildly theatrical approach to them.
'For people that know my work, this will be a little bit different. It is more sexual than my previous work, and based on a simpler style of storytelling. It is more minimal. It is set in a white box, with a white piano, with three men who transform into angels, priests,
old ladies and soldiers. It is more gender bending than some of my previous work, and embraces the theatre tradition of an all-male cast. I am hoping that it is a piece that is extremely accessible, but still embraces a complex symbolic and visual way of layering stories. These are fairy tales, so there is a simplicity to the stories. But the complexity is in how they are mashed together, and in the way we tell them.'
Also in the Silver Artrage Festival program – and not to be missed – the So You Think You Can Dance Program, Dying City, The History of Glass, the Australian Poetry Slam and the super cute exhibition Candy Cult Characters. It would also be perilous to miss the mobile projects Windows on William which showcase a number of artists in various shop windows along William Street, super street friendly Laser Tagging, Tomás Fords dangerous social experiment Controlled Riot – where you get to take part in a riot and the ever loveable Silent Disco (oh, and don't miss The Trickster's Bible, my own Artrage project which you read by following a treasure map – plug plug!). There are also a huge number of other exciting exhibitions and projects – so cancel your family for the month, you're going to be busy.
The 'Do not miss this' character of the many events is summed up by Silver Artrage Festival program itself, which is a candy induced psychotropic cavalcade of colour created by our very own Rose Skinner. Based on Bosch's Garden of Earthly Delights, Skinner has used 180 kgs of sugar to create an obsessive multidimensional world of energy, one which is undeniably Skinnerian in its scope and execution. Watch out for it as it springs up throughout the Artrage Festival in a multitude of locations.
Silver Artrage opens on October 16 and runs until November 9. It is literally cram packed with events, too many to list here. One thing is for certain though: this years Silver Artrage Festival is not to be missed! Visit www.artrage.com.au for a taste of this year's super sweet programming treats.
Scott-Patrick Mitchell