Singapore bans foreign companies from supporting LGBT events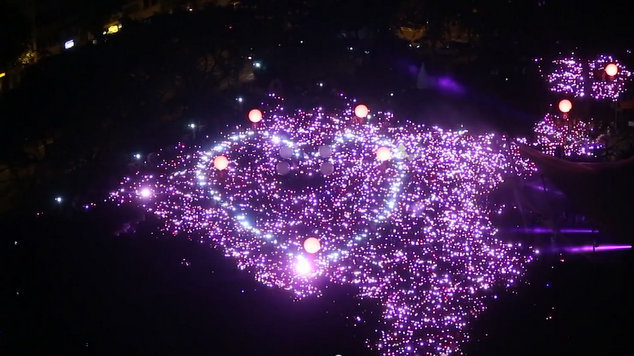 Singapore has declared foreign companies will no longer be allowed to sponsor events aimed at LGBT groups.
The island state's Ministry of Home Affairs has ruled that events held at Singapore's Speaker's Corner can no longer be sponsored by overseas companies.
The decision is a hug blow for Pink Dot the annual event that has shown a massive growth in support for LGBT rights in Singapore. Last year a record 28,000 people attended the event lighting up the park with pink torches.
The 2016 event held last week reportedly saw a crack down on foreigners attending the event with police requiring citizens to show their ID before entering Hong Lim park.'
Organisers declined to post an official head count for the event in 2016 and the event was held earlier in the day so there was no torch lighting.
This year people held up placards to show their support. As the official capacity of the park is 5000 only 5000 placards were made. Pink Dot organisers have confirmed all 5000 were taken.
Singapore has always ruled that foreigners may not attend or help organise public demonstrations but has now expanded the rule to cut off the financial support to prominent groups.
In a statement the Ministry of Home Affairs said foreign entities should not interfere in domestic, political or controversial social issues with any political overtones because "these are political, social or moral choices for Singaporeans to decide for ourselves. LGBT issues are one such example."
Pink Dot has received support from a wide range of international companies including Google, Barclays, J.P. Morgan, Goldman Sachs, Bloomberg and BP, while first-time sponsors include Facebook, Apple, General Electric, NBCUniversal and Visa.
Increasingly pressure is been put on the Singaporean government to reform it's outdated laws against homosexuality as staff of large multinationals are reluctant to work in the country.
Pink Dot have released an official statement saying that they will stay within the law but noted that all of their corporate sponsors are registered companies in Singapore.
"Our Corporate Sponsors that have supported us over the years are all registered and incorporated in Singapore. We are fortunate to count among them admired household names, employers of choice for a sizeable portion of our workforce, inextricably linked with and fully a part of this beautiful fabric we call home." the group said.
OIP Staff