Singapore ramps up calls for gay rights and decriminalisation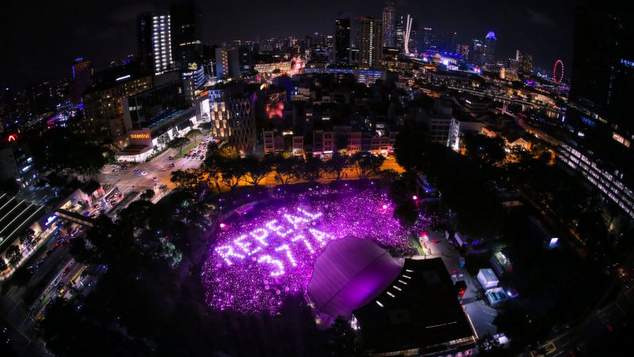 Singapore's LGBTIQ+ community campaign to decriminalise homosexuality is gathering steam with this year's Pink Dot event boldly proclaiming its time for the island nation to repeal statute 377A from their penal code.
Now in its eleventh year Pink Dot sees thousands of Singaporeans gather in Hong Lim Park to celebrate the local queer community. Over the last decade the peaceful protest has grown from a small crowd to being a packed event.
This year the message lit up from the crowd was specific, "Reapeal 377A", a call to remove the colonial era British law that outlaws homosexuality.
Following India's decision to remove a similar law, there has been increasing pressure on Singapore to take action against the antiquated law that is rarely enforced, but makes the country's LGBTIQ+ population face significant stigma.
Hong Lim Park is the only place in Singapore where people can participate in a protest action. Over the years authorities have brought in a series of additional restrictions on the event requiring organisations to invest in additional fencing and banning them from taking donations from multinational companies. This year's event was sponsored by 188 Singaporean businesses.
Only Singaporean citizens and permanent residents are allowed to attend the event, and organisers face harsh fines if a foreigner is found to be at the event.
A spokesperson for the event said Singapore's leaders had selective listening when it came to LGBTIQ+ rights.
It has been a decade and yet our leaders seem to be selective in their listening when it comes to the discrimination that LGBTQ people face every single day," Pink Dot SG spokesman Paerin Choa said in a media release.
"We continue to be made invisible and marginalised in Singapore where we are denied respect and dignity by the laws and the policies of this country."
Notable among the attendees this year was Lee Hsien Yang, the former chairman of the Civil Aviation Authority of Singapore and brother of Prime Minister Lee Hsien Loong and his wife, lawyer Lee Suet Fern.
They joined their their newly married son Li Huanwu and his husband Heng Yirui. The family are the descendants of Singapore's founder Lee Kuan Yew.
Commenting on the progress of gay rights in other parts of the world, Pink Dot SG spokesman Clement Tan said, "We've seen Taiwan, India, Bhutan, Botswana, Ecuador – countries where the governments have taken steps towards freedom and equality for all their citizens – all in one year."
"As young Singaporeans who are contributing to our nation, we ask ourselves if Singapore is the place where we want to really lay down our roots, build careers, and start our families. It's ridiculous that Singapore is left behind time and time again," he added.
OIP Staff
---