Study highlights effects of marriage debate on LGBTI+ mental health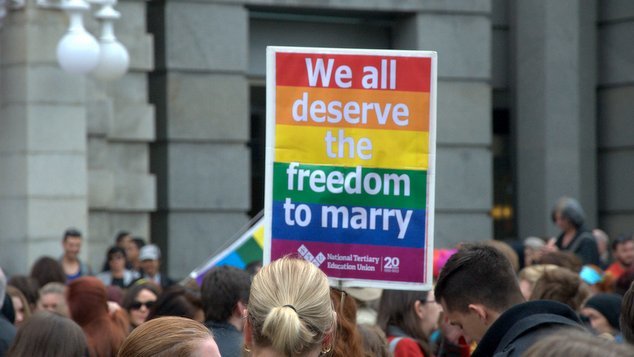 Psychologists at the University of Sydney have released the results of a study that examined psychological distress experienced by LGBTI+ people during the Australian Marriage Law Postal Survey in 2017.
The study showed that the overall stigma experienced by lesbian, gay and bisexual people during the debate was a source of stress, but also resilience for individuals who had social support networks.
Published in Australian Psychologist, the study examined 1305 Australians who identified as gay, lesbian or bisexual during the marriage survey in 2017.
The research revealed that exposure to homophobic campaign and media messages could be linked to increased levels of stress, anxiety and depression in LGB+ Australians.
The study's lead author Stefano Verrelli said the findings highlight how political decision-making and legislative processes related to the rights of minority populations have the potential to negatively affect their mental health.
Verrelli also noted that the researched confirmed many of the concerns expressed by mental health experts ahead of and during the vote, including the Australian Medical Association, the National Mental Health Commission and the Australian Psychological Society.
Results of the study also highlighted factors which helped to protect the mental health of LGB+ people during times of intense public scrutiny.
"The family and friends of same-sex attracted people appear to play an important role – and seem to even offset some of the harm done by the negative side of these debate – by openly supporting LGBT rights," Verrelli said.
"LGBT rights and mental health organisations also have an important role to play by continuing their public support of minority issues. Their public messages of support appear to improve the psychological wellbeing of same-sex attracted people who require it most."
LGBTI+ advocates have welcomed the research, saying the results highlight a need to prevent any similar votes in the future.
just.equal spokesperson Rodney Croome says all political parties should rule out ever again subjecting the rights of LGBTI+ people to a public vote.
"The damage the postal survey did was completely unnecessary because a decade of polling showed strong majority support, and because marriage equality could and should have been resolved by a free vote on the floor of Parliament," Croome said.
"This research shows that those community members and politicians who took a strong stand against the Government's proposal for a public vote were right to do so."
Croome added that these results are a reminder that laws need to be changed to protect LGBTI students and teachers from discrimination in faith-based schools.
"The postal survey research is a reminder of the adverse impacts of discrimination on the mental health of LGBTI people," Croome said.
"With opinion polls consistently showing Australians oppose laws that allow discrimination against LGBTI students and teachers in faith-based schools, it's time for Scott Morrison and Bill Shorten to act decisively and stop such discrimination."
The Greens have echoed just.equal's response to the research, also calling for no future public votes on human rights.
"We all knew the postal survey was going to cause harm to LGBTIQ+ people," Greens LGBTIQ+ spokesperson Senator Janet Rice said.
"Everyone from medical experts, mental health organisations, community groups and LGBTIQ+ people continually warned against it. "
"The postal survey legitimised homophobia and transphobia, it gave a platform to hateful views and speech that would normally not be acceptable in our community."
"I'm relieved that we finally achieved marriage equality, but LGBTIQ+ people remain under threat," Senator Rice continued.
"The anti-LGBTIQ+ movement have now turned their attention to further entrenching discrimination in our schools."
"Schools, indeed our society, must be discrimination-free zones for all LGBTIQ+ people."
OIP Staff
---
Do you need some support?
If you are struggling with anxiety or depression, support and counselling are available from:
Lifeline: 13 11 14
Beyondblue: and www.beyondblue.org.au
QLife: and www.qlife.org.au
QLife are a counselling and referral service for Lesbian, Gay, Bisexual, Transgender and Intersex (LGBTI) people.