Swedes Promote Peace With Pro-Gay 'Singing Sailor'
In Sweden, an organisation has put in place a new measure to discourage naval conflicts.
In response to concerns about a greater Russian military presence in the Baltic Sea, Sweden announced plans to increase mobilization of its navy in the area.
However, one organisation has put in place a very different approach to resolving conflict. The Swedish Peace and Arbitration Society have installed a "Subsurface Defense System" outside Stockholm that sends a message to any submarines in the area.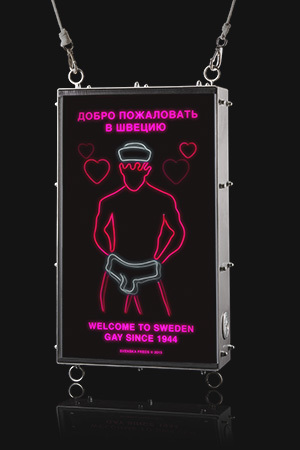 The device is called 'The Singing Sailor'. It consists of a neon sign bearing a sailor waving a flag accompanied by the slogan "Welcome to Sweden. Gay since 1944", in reference to 1944 being the year Sweden decriminalized homosexuality.
The 'Singing Sailor' also transmits a message in morse code to any nearby vessels: "This way if you are gay".
According to its website, the 'Singing Sailor' is "a contribution to the debate that we all should shift military resources into development and rethinking security". Its parent organisation, The Swedish Peace and Arbitration Society aim to promote cooperation and diplomacy as conflict resolution methods instead of military conflict.
It is also a tongue in cheek statement against Russia's widely controversial "gay propaganda" laws that make illegal the promotion of "non-traditional sexual relationships". According to its press release, those who encounter the 'Singing Sailor' are extended a warm welcome to the Stockholm Pride Parade in August.
"In times of unrest, love and peace across boundaries is more important than ever. We want to break-up with the violence." the statement reads.